News 12.2013.2
Today, Bougainville Copper securities
should have a realistic minimum value
of AUD 4.50 per share !
31.12.2013
Source: Radio New Dawn on Bougainville
A Ministerial Statement
to the Bougainville House of Representatives
by
Hon Dr Chief John l Momis GCl, MHR,
President of the Autonomous Region of
Bougainville and the Autonomous
Bougainville Government
On
The occasion of the presentation by the
Minister for Planning, Finance &
Treasury, of the ABG 2014 Budget,
Tuesday 31st December 2013
•
MR SPEAKER, THANK YOU FOR GIVING ME LEAVE TO MAKE A STATEMENT ON
THE GOVERNMENT'S 2014 BUDGET, WHICH WAS PRESENTED BY THE
MINISTER FOR FINANCE, TREASURY AND PLANNING YESTERDAY MORNING.
MR SPEAKER, I WANT TO BEGIN BY EXPRESSING MINE AND MY WIFE'S
GRATITUDE FOR THE MANY CONDOLENCE MESSAGES THAT WE RECEIVED ON
THE DEATH OF OUR ONLY DAUGHTER, MARYCATH, AND THE SUPPORT
ACCORDED TO US BY BOUGAINVILLE LEADERS; LIKE YOURSELF, MEMBERS
OF THE HOUSE, ALL BOUGAINVILLEANS AND FRIENDS IN AND OUTSIDE OF
BOUGAINVILLE, PAPUA NEW GUINEA AND ABROAD. WHILST IT HAS NOT BEEN
EASY FOR BOTH OF US, THE SUPPORT FROM THE PEOPLE OF BOUGAINVILLE
HAS HELPED US TO RECOVER FROM THE ORDEAL.
MR SPEAKER, AT THIS JUNCTURE, I ALSO WANT TO CONGRATULATE THE FIVE
NEW MEMBERS OF THE ABG PARLIAMENT ON THEIR ELECTIONS AS
REPRESENTATIVES OF THEIR CONSTITUENCIES IN THE BOUGAINVILLE HOUSE
OF REPRESENTATIVES. WHIILST TWO HAVE BEEN MEMBERS BEFORE AND
ARE WELL VERSED WITH THE ROLES AND RESPONSIBILITIES OF A
CONSTITUENCY MEMBER, THE OTHER THREE MEMBERS WILL NEED TO NOT
ONLY LEARN AS MUCH AS POSSIBLE IN THE 15 MONTHS PRIOR TO THE ISSUE
OF WRITS (FOR THE NEXT GENERAL ELECTIONS), BUT ALSO DO AS MUCH FOR
THEIR CONSTITUENCIES DURING THIS SHORT PERIOD. THIS WILL NOT BE
EASY AS YOU WILL SOON FIND OUT. THE IMPORTANT THING IS TO RETURN
• THE PEOPLE'S TRUST IN YOU AS THEIR LEADERS BY REASLISTICALL Y
REPRESENTING THEM IN PARLIARMENT IN THE PERIOD THAT YOU ARE THEIR
MEMBER UNTIL THE NEXT ELECTIONS.
MR SPEAKER, LET ME NOW TURN TO THE 2014 ABG BUDGET. I WANT TO
CONGRATULATE THE MINISTER AND THANK HIM FOR PRESENTING ANOTHER
GOOD BUDGET TO THIS HONOURABLE HOUSE. THE 2014 ABG BUDGET IS
APROPRIATELY THEMED "CONSOLIDATING SUSTAINABLE DEVELOPMENT
THROUGH HIGH IMPACT INVESTMENT" BECAUSE IT IS ONE WHICH I BELIEVE
TAKES THE GOVERNMENT AND PEOPLE OF BOUGAINVILLE ONE STEP
,
FURTHER IN THE JOURNEY THAT WE, AS A PEOPLE HAVE CHOSEN TO
EMBARK UPON AND THUS CONTINUE TO TRAVEL TOGETHER IN OUR QUEST
AND ASPIRATIONS FOR A BEDER FUTURE. BUT I ALSO WANT TO USE THIS
OCCASSION TO MAKE A STATEMENT TO THE PEOPLE OF BOUGAINVILLE ON
THE PROGRESS THAT HAS BEEN MADE SINCE WE TOOK OFFICE WITH
REGARD TO WHAT HAS BEEN ACHIEVED, THE CHALLENGES THAT WE
CONTINUE TO FACE AND WHAT WE MUST DO TO OVERCOME THESE
CHALLENGES MOVING FORWARD IN 2014 AND BEYOND.
MR SPEAKER, THIS JOURNEY HAS NOT BEEN EASY; IN FACT SINCE THE
ESTABLISHMENT OF THE FIRST ABG IN 2005, SUCCESSIVE BOUGAINVILLE
GOVERNMENTS HAVE FACED MANY CHALLENGES. AS A NEW AND POST-
CONFLICT GOVERNMENT WITH LIMITED RESOURCES AND CAPACITY WE WILL
21t-'age
NO DOUBT CONTINUE TO ENCOUNTER MANY MORE CHALLENGES ALONG THE
WAY. SOME OF THESE CHALLENGES EMANATE FROM:
• THE NEED TO MEET THE VERY HIGH AND SOMETIMES UNREALISTIC
EXPECTATIONS OF OUR PEOPLE FOR QUALITY GOODS, SERVICES
AND DEVELOPMENT;
• THE REQUIREMENT TO MEET INTERNATIONALLY ACCEPTED
STANDARDS OF GOOD GOVERNANCE; AND
• IMPLEMENTING THE BOUGAINVILLE PEACE AGREEMENT WITH
REGARD TO
MR SPEAKER, THESE CHALLENGES REMIND US THAT OUR SITUATION IS NOT A
NORMAL ONE; RATHER IT IS UNIQUE TO BOUGAINVILLE AND THEREFORE
REQUIRES SPECIFIC INTERVENTION STRATEGIES, SOME OF WHICH ARE
ADDRESSED IN THE 2014 BUDGET.
MR SPEAKER, THE SHIFTING OF A LARGER PORTION OF THE RECURRENT
BUDGET AS WELL AS PLANS TO DEPLOY MORE PEOPLE TO DISTRICTS UNDER
A NEW DISTRICT DEVELOPMENT PROGRAM IS ONE SUCH INTERVENTION. THE
STRENGTHENING OF COUNCIL OF ELDERS (COEs) AS THE SECOND TIER OF
GOVERNANCE IN BOUGAINVILLE, THROUGH INCREASED FUNDING AND OTHER
TECHNICAL SUPPORT IS ANOTHER STRATEGY THAT IS ADDRESSED IN THE
2014 BUDGET.
MR SPEAKER, BY FOCUSING ON THE DISTRICTS AS FOCAL POINTS FOR
SERVICE DELIVERY, THE GOVERNMENT WANTS TO IMPROVE ACCESS BY THE
MAJORITY OF OUR PEOPLE TO BASIC, BUT QUALITY GOODS AND SERVICES.
HOWEVER WE MUST APPRECIATE THAT BOUGAINVILLE WAS REDUCED TO
BASIC HUMANITY IN THE CONFLICT AND WE ARE STARTING FROM BELOW
GROUND ZERO IN THE PROCESS OF REBUILDING THIS NATION REMAINS AN
ARDUOUS AND LONG JOURNEY FOR ALL OF US. UFORTUNATEL Y, THERE IS NO
SHORT CUTS.
MR SPEAKER, THE PUBLIC SECTOR REFORMS BEING UNDERTAKEN WITHIN

THE ADMINISTRATION, AND WHICH WILL BE CONSOLIDATED WITH THE
COMING INTO FORCE OF THE BOUGAINVILLE PUBIC SERVICES
(MANAGEMENT) ACT AND THE BOUGAINVILLE PUBLIC FINANCE
(MANAGEMENT) ACT IN JANUARY 2014 ARE AIMED AT INSTITUTING MEASURES
THAT WILL RESULT IN A MORE EFFECTIVE SERVICE DELIVERY PROCESS AS
WELL AS STRENGTHENING GOOD GOVERNANCE.
MR SPEAKER, PEACE AND RECONCILIATON, AND WEAPONS DISPOSAL
CONTINUE TO BE MAJOR CHALLENGES FOR THE GOVERNMENT. THESE ARE
ISSUES THAT MUST BE DEALT WITH COLLECTIVELY BUT DECISIVELY IF WE
ARE GOING TO ACCELERATE PROGRESS TOWARD CREATING THE NEW
BOUGAINVILLE THAT OUR LEADERS ASPIRED TO WHEN WE SIGNED THE
BOUGAINVILLE PEACE AGREEMENT. WEAPONS DISPOSAL IS ESPECIALLY
CRUCIAL TO OUR JOURNEY AND ONE WHICH MUST BE ADDRESSED
IMMEDIATELY AS WE APPROACH THE REFERENDUM ON OUR ULTIMATE
POLITICAL FUTURE. I AM HAPPY THAT A SIZABLE AMOUNT HAS BEEN
ALLOCATED TO THESE PROGRAMS IN 2014.
MR SPEAKER, THE BUDGET IS IMPORTANT BECAUSE WE NEED FUNDS TO
IMPLEMENT GOVERNMENT PROGRAMS THAT WILL IMPROVE THE WELFARE OF
THE 'MAJORITY OF BOUGAINVILEANS WHO ARE STILL RURAL BASED. BUT
RIGHT NOW WE ARE NOT IN CONTROL OF HOW MUCH WE CAN SPEND
BECAUSE WE STILL RELY ON SOMEONE ELSE TO GIVE US THE MONEY TO

FINANCE OUR BUDGET. MORE THAN 85% OF THE ABG'S 2014 BUDGET STILL
COMES FROM THE NATIONAL GOVERNMENT. UNTIL THE ABG CAN RAISE MORE
OF ITS REVENUE INTERNALLY, WE WILL CONTINUE TO BE DICTATED TO BY
OTHERS, NOT, ONLY ON THE PROGRAMS THAT WE CAN IMPLEMENT, BUT
PERHAPS MORE SO, ON THE LEVEL OF RESOURCES THAT WE CAN ALLOCATE
TO PROGRAMS THAT WE BELIEVE WILL ALSO MAKE THE HIGHEST IMPACT IN
THE LIVES OF OUR PEOPLE.
MR SPEAKER, IT IS FOR THIS REASON THAT MY GOVERNMENT IN 2010 NOT
ONLY ENDORSED THE PREVIOUS GOVERNMENTS DECISION TO NEGOTIATE
51 a q e
THE REOPENING OF THE PANGUNA MINE, BUT ALSO ACCELLERATED IN THE
LAST THREE YEARS, PREPATIONS BY ABG AND PANGUNA MINE AFFECTED
LANDOWNERS TO NEGOTIATE ITS REOPENING. MY GOVERNMENT BELIEVES
THAT AN OPERATING PANGUNA MINE WILL BE CATAL YCTICAL TO
BOUGAINVILLE'S ECONOMIC DEVELOPMENT, GENERATING MUCH NEEDED
REVENUE TO SUPPORT OTHER SECTORS OF OUR ECONOMY.
MR SPEAKER, HOWEVER, THERE IS A DISTINCTION THAT NEEDS TO BE
EMPHASISED BETWEEN THE PROCESS OF PREPARATIONS FOR, AND
CONDUCT OF NEGOTIATIONS TO REOPEN THE PANGUNA MINE AND THE
DRAFT BOUGAINVILLE MINING (TRANSITIONAL ARRANGEMENTS) BILL
CURRETLY AT CONSULTATION STAGE. THE BOUGAINVILLE MINING BILL IS TO
REGULATE ALL MINING ACTIVITIES IN THE REGION; ITS OBJECTIVE IS NOT

ABOUT PANGUNA MINE, ALTHOUGH A REOPENED PANGUNA MINE WILL BE
REQUIRED TO OPERATE AND BE REGULATED UNDER THIS AND FUTURE
BOUGAINVILLE MINING LAWS. TO CONTINUE TO MAKE BLANKET STATEMENTS
THAT THE PROPOSED BOUGAINVILLE MINING BILL OR SECTIONS OF THE BILL
PROTECTS BOUGAINVILLE COPPER LIMITED, AS SOME PEOPLE CONTINUE TO
ASSERT IS NOT TRUE.
MR SPEAKER, THE GOVERNMENT IS NOT BEHOLDEN TO BOUGAINVILLE
COPPER LIMITED (BCL); IT IS THE LANDDOWNERS WHO SPECIFICALLY
WANTED BCL. THEY ARGUED THEN AND NOW THAT IT IS BETTER TO DEAL
WITH THE DEVIL YOU KNOW, AND THE DEVIL THAT KNOWS US THAN A
COMPLETELY NEW DEVIL. SO ANY ASSERTION THAT WE ARE PROTECTING
BCL IS NOT TRUE.
MR SPEAKER, THERE IS ANOTHER ISSUE THAT BOUGAINVILLEANS NEED TO
UNDERSTAND AND APPRECIATE; THIS CONCERNS THE ENGAGEMENT OF
FOREIGN ADVISORS. EVERY LEADER IN THE WORLD HAS ADVISORS WORKING
FOR THEM; THE ROLE OF AN ADVISOR IS TO ADVISE, BUT THE BULK STOPS
WITH THE LEADER. WE SHOULD NOT LET MERE SUSPICION CLOUD OUR OWN
INDEPENDENT AND INTELLIGENT THINKING OR BE INFLUENCED BY THOSE
WHOM WE PERCIEVE ARE STRONGER THAN US.
MR SPEAKER, WITH REGARD TO ECONOMIC DEVELOPMENT THE
GOVERNMENT IS NOT PUTTING ALL ITS EGGS INTO ONE BASKET; THE
GOVERNMENT IS SUPPORTING THE DEVELOPMENT OF AGRICULTURE,
FISHERIES AND TOURISM SECTORS TO GROW THE ECONOMY IN 2014. WITH
REGARD TO MINING, THE GOVERNMENT WILL SOON BE CONSIDERING OTHER
OPTIONS, SHOULD PANGUNA NOT GO AHEAD AS EXPECTED.
MR SPEAKER, CONSIDERATION OF ALTERNATIVE OPTIONS IN THE
EXTRACTIVE INDUSTRY WILL FOLLOW THE PASSAGE OF BOUGAINVILLE'S
OWN MINING LAW IN 2014 AFTER THE PEOPLE HAVE HAD AN OPORTUNITY TO
GIVE THEIR VIEWS. THE PASSAGE OF 0 R OWN MINING LAW WILL ENABLE
THE GOVERNMENT TO CONSIDER OPTIONS TO ALLOW MINERAL
EXPLORATIONS TO COMMENCE. CONTRARY TO WHAT CRITICS ARE SAYING
ABOUT THE BILL, IT IS STILL AT CONSULTATION STAGE.
MR SPEAKER, WITH REGARD TO REOPENING PANGUNA, THE GOVERNMENT
HAS INVESTED MUCH FROM ITS OWN MEAGRE RESOURCES TO ENSURE THAT
PANGUNA MINE AFFECTED LANDOWNERS PLAY A CENTRAL ROLE IN ANY
DECISONS CONCERNING THE MINE AND THAT THE WIDER BOUGAINVILE
COMMUNITY ALSO HAVE AN OPPORTUNITY TO EXPRESS THEIR VIEWS ON THE
FUTURE OF PANGUNA MINE. REGIONAL PUBLIC FORUMS HAVE BEEN
CONDUCTED THROUGHOUT THE LENGTH AND BREATH OF BOUGAINVILLE TO
GAUGE THE VIEWS OF BOUGAINVILLEANS INCLUDING WORKSHOPS WITH EX-
COMBATANTS ON THE REOPENING OF PANGUNA MINE. ENGAGEMENTS WITH
LANDOWNERS THROUGH THE 9 ESTABLISHED LANDOWNER ASSOCIATIONS
ARE CONTINUING ON A BY-MONTHLY BASIS.
MR SPEAKER, WHILST THE GOVERNMENT HAS MADE A COMMITMENT TO
SUPPORT THE PROCESS IN 2014 AND BEYOND, THE MINE AFFECTED
LANDOWNERS MUST DECIDE SOONER RATHER THAN LATER WHETHER OR
NOT THEY STILL SUPPORT THE ABG IN THIS ENDEAVOUR. THIS WILL ENABLE
THE GOVERNMENT TO CONSIDER OTHER OPTIONS TO REOPENING PANGUNA.
WE CANNOT PROCASTINATE FOR EVER.
•
MR SPEAKER, 2014 IS A CRUCIAL YEAR FOR THIS GOVERNMENT; NOT ONLY IS
IT LIKELY THAT THE DATE FOR THE REFERENDUM WILL BE SET, BUT THIS
GOVERNMENT WILL HAVE LESS THAN 15 MONTHS BEFORE THE ISSUE OF
WRITS FOR THE NEXT ABG GENERAL ELECTIONS. OUR CRITICS WILL SAY
THAT WE HAVE NOT ACHIEVED MUCH; BUT ONLY A BLIND FOOL WILL NOT SEE
THE PROGRESS THAT WE HAVE MADE SINCE 2010. NOT ONLY HAVE WE
ACHIEVED A LOT, BUT WE HAVE ALSO MADE MUCH PROGRESS IN OUR
EFFORTS TO CREATE A HARMONIOUS, PEACEFULL AND PROSPEROUS
SOCIETY FOR OUR PEOPLE.
,
MR SPEAKER, IN TERMS OF IMPLEMENTING AUTONOMY, THIS GOVERNMENT
HAS PASSED A NUMBER OF IMPORTANT LEGILATIONS BOTH IN RESPONSE TO
CONCERNS BY OUR PEOPLE AS WELL AS IN RESPONSE TO THE CHANGING
CONTEXT OF OUR AUTNOMOUS ARRANGEMET. IN ORDER TO PROTECT OUR
PEOPLE FROM DOMINATION BY UNSCRUPULOUS FOREIGN BUSINESSES, WE
RECENTLY PASSED THE INWARD INVESTMENT LAW.
MR SPEAKER, IN ADDITION, ANOTHER IMPORTANT PIECE OF LEGISLATION
THAT WAS RECENTLY PASSED BY THE GOVERNMENT IS THE BOUGAINVILLE
EDUCATION LAW; THIS WILL ENABLE THE ABG TO MANAGE ITS OWN
EDUCATION SYSTEM, QUITE SEPARATE FROM PAPUA NEW GUINEA. THE
BOUGAINVILLE PUBLIC SERVICE MANAGEMENT ACT AND THE BOUGAINVILE
PUBLIC FINANCE MANAGEMENT ACT ARE TWO VERY IMPORTANT PIECES OF
LEGISLATION THAT ARE EXPECTED TO COME INTO FORCE IN THE NEW YEAR.
SUCH LEGISLATIONS ARE PART OF THE PROCESS OF IMPLEMENTING
AUTONOMY THROUGH THE ENACTMENT OF BOUGAINVILLE LAWS TO
GOVERNMENT FUNCTIONS PREVIOUSLY CONDUCTED UNDER NATIONAL
GOVERNMENT LAWS.
MR SPEAKER, THESE TWO LEGISLATIONS ARE ALSO PART OF THE PUBLIC
SECTOR REFORMS BEING UNDERTAKEN IN THE ADMINISTRATION TO MAKE
THE NEW BOUGAINVILLE PUBLIC SERVICE MORE EFFECTIVE AS WELL AS TO
STRENGHTEN GOOD GOVERNANCE.
MR SPEAKER, THE MUCH PUBLICISED BOUGAINVILLE MINING (TRANSTIONAL
ARANGEMENTS) BILL WILL ASO BE DELIBERATED ON BY THIS HOUSE IN THE
j
NEW YEAR AFTER THE PEOPLE OF BOUGANVILLE HAVE HAD THE
OPPORTUNITY TO EXPRESS THEIR VIEWS. UP UNTIL VERY RECENTLY, THE
GOVERNMENT WAS CONSULTING ONLY WITH A VERY SMALL SECTION OF THE
COMMUNITY, WHICH UNFORTUNATELY WANT THE LAW TO BE TAILORED IN A
CERTAIN WAY. BUT LAWS ARE MADE FOR EVERY CITIZEN AND IT IS THE
RESPONSIBILITY OF GOVERNMENTS TO ENSURE THAT LAWS ARE FAIR, JUST
AND APPLY EQUALLY TO EVERYONE.
MR SPEAKER, AS LEGISLATORS, OUR RESPONSIBILITY IS TO MAKE LAWS; WE
IN BOUGAINVILLE NEED TO MOVE AWAY FROM THE PERCEPTION AT NATIONAL
GOVERNMENT LEVEL THAT POLITICIANS SHOULD MANAGE PROJECTS. THIS IS
THE RESPONSIBILITY OF THE PUBLIC SERVICE. OUR JOB IS TO MAKE LAWS
AND POLICIES THAT WILL ENALE SUCH DEVELOPMENTS TO BE UNDERTAKEN
IN A CONDUCIVE ENVIRONMENT.
MR SPIEAKER, THROUGHOUT OUR POLICITAL HISTORY, BOUGAINVILLEANS
HAVE ALWAYS WANTED TO MANAGE THEIR OWN AFFAIRS. I BELIEVE THAT
THE BOUGAINVILLE PEACE AGREEMENT GIVES US THE OPPORTUNITY TO DO
JUST THAT. WE HAVE A GOLDEN OPPORTUNITY TO CREATE SOMETHING
COMPLETELY NEW AND BETTER FOR OUR PEOPLE - A HARMONIOUS,

PEACEFULL AND PROSPEROUS SOCIETYY FOR OUR PEOPLE; SOMETING THAT
CAN BE THE ENVY OF OUR FRIENDS AND OTHERS BECAUSE MANY PEOPLE
BELIEVE THAT WE CAN DO IT.
MR SPEAKER, HOWEVER IT IS IMPORTANT FOR US TO FIRST HAVE FAITH IN
OURSELVES. WITHOUT FAITH, WE CANNOT REALISE THE HUMAN POTENTIAL
TO SUCCEED IN OUR COMMON ENDEAVOUR TO CREATE THE KIND OF
SOCIETY THAT WE WANT FOR OUR FUTURE GENERATIONS.
MR SPEAKER, BUT CREATING A HARMONIOUS, PEACEFULL AND PROSPEROUS
SOCIETY, IS NOT THE GOVERNMENT'S RESPONSIBILITY ALONE. THIS MUST BE
THE COLLECTIVE RESPONSIBILITY OF ALL BOUGAINVILLEANS. THIS IS
BECAUSE WE CHOSE TO BE IN THIS SITUATION, AND ONLY WE CAN GET
OURSELVES OUT OF IT. AS PRESIDENT ELLEN JOHNSON SIRLEAF OF LIBERIA
SAID DURING HER INNAUGURATION AS AFRICA'S FIRST FEMALE PRESIDENT IN
FEBRUARY 2006, "THE FUTURE BELONGS TO US, BECAUSE WE HAVE TAKEN
CHARGE OF IT".
MR SPEAKER, BOUGAINVILLE'S FUTURE BELONGS TO BOUGAINVILEANS,
BECAUSE ONLY BOUGAINVILLEANS CAN HONESTLY CALL BOUGAINVILLE
HOME AND HAVE A FUTURE IN BOUGAINVILLE. BUT WE SHOULD LEARN TO
TRUST EACH OTHER INSTEAD OF FOREVER BEING SUSPICOUS OF EACH
OTHER. LET US ALL UNITE AS A NATION TO MAKE THE FUTURE A BETTER AND
BRIGHTER ONE FOR us ALL.
MR SPEAKER, I WISH TO CONCLUDE BY THANKING ALL BOUGAINVILLEANS
-
THROUGH YOU AND THE MEMBERS OF THIS HOUSE, FOR YOUR SUPPORT IN
2013 AND I LOOK FORWARD WITH EXCITEMENT TO ANOTHER BUSY YEAR FOR
ALL OF US. I WISH YOU A BELATED MERRY CHRISTMAS AND A HAPPY, SAFE,
PEACEFULL AND PROSPEROOUS NEW YEAR 2014. MAY YOU ALL HAVE A
PLEASANT NEW YEAR BREAK, RE-ENERGISED TO DO IT ALL OVER AGAIN IN
2014.
GOD BLESS BOUGAINVILLE
HON DR CHIEF JOHN l MOMIS GCl, MHR
PRESIDENT
31.12.2013
Source: Post-Courier
Bougainville at the crossroads
By LAWRENCIA PIRPIR
AGAIN, Bougainville stands on the crossroad of making or breaking for the better or for worse, taking into consideration that the next generation watching now that the Bougainville Peace Agreement has been honoured religiously for 12 years. Edward Kenai of Siara village in the Selau constituency, who has been instrumental in supporting the Bougainville Peace Agreement stakeholders, has come out as a citizen to encourage greater understanding of the peace agreement.
And on the eve of New Year, Mr Kenai highlighted that 12 years ago on August 30, 2001 the Bougainville Peace agreement was signed. "Twelve years is the same time period the North Solomon Provincial Government after its inception in 1976 came into existence after the Bougainville Agreement was signed on 7th August 1976 between the National Government and the Provincial Government of North Solomons, which allowed Bougainville to still be an integral part of PNG to see the Provincial Government function.
"It took exactly 12 years (1976-1988), for the implementation of the very immature Provincial Government System and we all know the unpredictable happen on the shores of Bougainville 12 years after the Bougainville Agreement was signed," he said. So standing at the same journey wavelength this time Mr Kenai said we all Bougainvilleans need to see to it that the Bougainville Peace Agreement is fully implemented so the full realisation of greater autonomy is experienced.
Mr Kenai said since the Bougainville forum was created online, he has always come across members of these forums, some prominent Bougainville and Papua New Guinea leaders and also Bougainvilleans mentioning the Bougainville Peace Agreement and its implementation. "What I fail to see is Bougain-villeans grasping is the spirit of the agreement which I believe is the guide and key to understand the depth and underlying reason as to why the Bougainville Peace Agreement was created," he said.
"Firstly, every Bougainvillean and Papua New Guinean today should salute every single individual that has tirelessly contributed his/her effort in making sure that the Bougainville Peace Agreement was a final and clear roadmap for Bougainville's lasting peace and normalcy.
"Many of those brave and peaceful people have since passed on to eternity and may God grant them everlasting peace. "Some of those peacemakers are still alive today and so there should be accorded respect and honour for laying a foundation for this generation today to enjoy peace dividends and a society created for improvement."
Mr Kenai said we all have to understand what the real vein of the Bougainville Peace Agreement is so Bougainville can be assured that we have a brighter future ahead and not a gloomy one as predicted by a lot of conspiracies and doomsday prophets. He said the main aim of the BPA was to end conflict between PNG and Bougainville, and secondly deal with conflicts within Bougainville.
The ending of the conflicts on Bougainville was not just about shaking hands and reconciling but also fixing up the root causes of the conflict and on Bougainville, it meant fixing up problems that caused the original conflict with PNG starting in 1988 and problems and issues that came up after that, and which caused conflict within Bougainville.
He said any political agreement that was to be agreed upon at that time were not only to deal with those issues, but had to also take into account, Bougainville's ability to run its own affairs in a post-conflict situation. In 1999 the leaders of almost all groups in Bougainville identified the problems and issues that had contributed to conflict. They included:
Basic grievances about land, environment and culture;

The strong wish of many people for Bougainville independence;

The conflict and divisions among Bougainvilleans, including divisions about Bougainville independence;

Destruction of or major damage to the main industries in Bougainville and to infrastructure (roads, bridges, schools, hospitals, health centres);

The weak economy in Bougain-ville (which means low levels of government revenue); and

The weak capacity of the Bougainville Administration.
To deal with these things, the leaders decided that the best future political arrangements for Bougainville should be based on two things:
A guaranteed but deferred referendum on independence; and

And high autonomy for Bougainville before the referendum.
Mr Kenai said Bougainvilleans should be thankful that we have successfully achieved the best political arrangements so far compared to the rest of Papua New Guineas provinces who are struggling to obtain an Autonomous status within the Country.
If we closely look into the reasons for choosing these political arrangements you will realise that it included autonomy that gives Bougainville power to deal with grievances, which means that Bougainville will control, among other things, its own land, resources, environment and culture.
31.12.2013
Source: Papua New Guinea Mine Watch
ESBC's comment : PNG Mine Watch concludes the year with another mean and misleading interpretation of all good-willing people's work who want to provide a better future to all citizens of Bougainville. In 2013 Papua New Guinean Mine Watch became the "nambawan" PR platform for criminal backdoor players and former terrorists ! Bravo !
Bullshit Mountain Collapses on Bougainville – President Injured, but No Fatalities
by ramunickel
In his Christmas day address, Bougainville's President began his long awaited U-Turn. "The Autonomous Bougainville Government will slow its push for Mining in the Autonomous region as from the new year", the President claimed. 'Never' one to blame the people for his own mistakes, the President immediately blamed the people for his own mistakes.
New Dawn FM report: 'He told New Dawn FM that the government was [only] listening to the landowners who wanted BCL to return as investor of the Giant Copper and Gold project but the landowners keep changing sides resulting in the Government losing a lot of money, time and effort in the process that has taken us nowhere'.
But of course this is a lie, and anyone in the mine area knows the people have never changed sides, their side has always been land, environment, custom and community, while Momis and his cronies stand for money, greed, foreign predation and environmental destruction (Francis Ona nailed him on this front in 1989).
Does the President forget about that infamous meeting in November 2011, where Michael Oni, the Mining Minister told landowner leaders "that there was no two ways about [it, the] Panguna mine [is] being opened in the not too distant future". Doe he forget his own words at this meeting, "[the mine] must be opened and there is an important need for a Unified Stand by ABG and Panguna Landowners". That sounds very much like a direction from the ABG to the landowner community, not vice versa.
Lets see how long it takes for the ABC to report on the President's backflip (or BCL's 'world class' blog Bougainville 24), if they do you can bet they wont acknowledge their own role in building this unstable mountain of bullshit that is falling on top of the ABG. For the last two years ABC journalists – the master chefs of corporate excrement – have waged a largely unprompted crusade for their corporate friends and benefactors in Canberra. When SBS dared to speak the unspeakable and expose BCL's role in war crimes (i.e. real journalism), where did the company's chairman go to have his empty denials published? Why the ABC, of course.
When President Momis and his friends from AusAID attempted to legalise a resource swindle by sneaking legislation into parliament, who misinformed the public on their behalf? Why ABC, naturally! "New Bougainville Legislation a World First for Landowners Rights to Minerals", was the headline.
Indeed, for the past year we have been told that President Momis and Rio Tinto are good guys, just trying to develop Bougainville so the people can enjoy independence. Outspoken critics like Sam Kaouna on the other hand, so the corporate line goes, is a greedy self-seeking war-lord in bed with criminal Canadian investors. And with uncanny timing AusAID have funded a research project designed to find out about these alleged Canadian criminals – research run by the same AusAid advisor who oversaw the drafting of the 'World First' legislation – then mysteriously several months later Canadian police arrive on Bougainville, though the ABG assure us that they had nothing to do with the Canadian investigation (Australia though was never asked of its role, curiously enough). Whats that smell?
The people of Bougainville know what it is. They have not forgotten, and will never forget, that President Momis from the comfort of Port Moresby sat in a war Cabinet that ordered a brutal military campaign that involved every crime in the book, execution of civilians, the burning of homes, the forced internment of villagers, and the denial of humanitarian aid. And who was the Commander in Chief at the time, Rabbie Namaliu. And where is Sir Rabbie today? Why on BCL's Board of Directors, the company that aided and abetted the military force he sent to the island. People don't forget the BS, even if the media fails to draw attention to it.
And what of the alleged criminal Sam Kaouna? He risked everything for his people, by going AWOL from the PNGDF in 1989, where he had served, and joining the rebels – not for personal gain – but because he had seen painfully the war crimes being inflicted on fellow Bougainvilleans. The people don't forget.
President Momis in his Christmas address tells us, "the ABG is now turning its focus on Agriculture [oil palm], Fishing and Forestry for much needed revenue". To translate, he is selling Bougainville's other resources to Asian 'developers', who he has been busy courting from 5-star hotels in the Philippines and China.
Its almost pathological, the President seems incapable of trusting his own people, yet they survived and innovated under the most brutal conditions imaginable, conditions inflicted on them by a Cabinet in which Momis sat. The people don't need foreign investors, they need their own government's faith in them and their abilities to develop an independent economy – what a novel idea.
Momis concluded his address stating "that they will still continue talks on the Panguna mine but on a much slower pace".
In other words this is a tactical retreat. The cheque book is out at the moment, and in time the ABG hopes to buy and conquer Panguna landowners. They may win over one or two weak individuals, but the people who fought, struggled and died over the course of a decade, their land and dignity is not for sale.
31.12.2013
Source: Post-Courier
Bougainville optimistic
By Post-Courier Bougainville Bureau Chief DAVID LORNIE
BOUGAINVILLE in 2013 continued on her road to Referendum for Independence.
Such journeys are not easy and there are many boxes to be ticked along the way. The three pillars of the Bougainville Peace Agreement – brokered by New Zealand and signed on August 30, 2001 after the civil war which ended in 1998 – include the Referendum, weapons disposal and autonomy.
Bougainville has already attained autonomy and the weapons disposal is ongoing.
The Autonomous Bougainville Government continues to work on issues of governance and service delivery. They are intent on overhauling the public service and recently installed no-nonsense lawyer and former Kumuls Chris Siriosi as acting chief administrator to further this goal.
The tourism division under CEO Lawrence Belleh was, in 2013, a shining star in Bougainville's reconstruction efforts. The division worked tirelessly throughout the year to create awareness and to help service providers understand what they need to do to grow the industry. Bougainville Tourism launched a new Website – with the help of overseas volunteers – which is helping to unify the various stakeholders around the region. The release of the internationally acclaimed movie Mr Pip, filmed mainly in Central Bougainville, has brought world attention to the region's natural beauty and friendly people. Tourism numbers are expected to increase dramatically as a result of both the Website and the film.
Many in Bougainville are involved in copra, cocoa and other forms of agricultural activity. This sector, along with aquaculture, is seen as an important part of the local economy in the future – with sustainability being a key issue. Prices for these commodities were upbeat towards the latter part of the year, ensuring a good Christmas bonus for many producers.
The giant Panguna copper and gold mine hit the public radar in a major way in 2013, with President John Momis showing strong public support for Bougainville Copper Limited to reopen the mine.
The Government, throughout the year, held discussions with the various landowner groups and others. But ABG support alone is not enough to reopen the mine. There are many issues relating back to the civil war that must be addressed – not least the K10 billion compensation claim by the Me'ekamui Government of Unity which controls Panguna. This is understood by all parties.
The proposed new mining laws are still a controversial issue and the President has not yet managed to push the legislation through parliament.
One much-awaited piece of legislation that was finally passed is the Inward Investment Act. This law was designed to help protect the economic interests of indigenous Bougainvilleans. 2013 saw a great deal animosity aimed at Asian businesspeople in the Region as locals felt they were being disadvantaged by the presence of these foreigners. The Act aims to offer remedy for this. Enforcement is the key for 2014.
The peacebuilding process gained momentum in 2013 with many reconciliation ceremonies being held throughout the year on a village level. One major milestone occurred with the reconciliation of three influential ex-BRA commanders – Moses Pipiro, Ishmael Toroama and Chris Uma. This sent a strong signal of peace as the three brothers-in-arms put their past differences behind them in a traditional peace ceremony held at Panguna. The message is that Bougainville is open for business.
The mood on the ground in Bougainville is one of optimism for the future. Whilst there is a long way to go before the Region has the capacity to be self sustaining, the resilience and strength of the Bougainvillean spirit must not be underestimated.
30.12.2013
Source: Radio New Dawn on Bougainville
FINANCE MINISTER TABLES 312 MILLION ABG BUDGET.
By Aloysius Laukai
The ABG Minister for Finance, Planning and Treasury, ALBERT PUNGHAU this morning tabled the ABG 2014 BUDGET totaling THREE HUNDRED AND TWELVE MILLION KINA down by the SEVENTY SEVEN MILLION KINA from the 2013 ABG Budget.
The ABG Parliament this morning sat for the 2013 Budget presentation by the Minister for Finance, Planning and Treasury, ALBERT PUNGHAU and adjourned immediately after to allow members to properly study the budget and debate on it tomorrow morning before passing the budget tomorrow.
In his budget speech, Minister PUNGHAU highlighted three areas that the ABG has received funding for the 2014 budget.
The Three areas are funds from the National Government totaling, TWO HUNDRED SIXTY EIGHT MILLION KINA.
Expected Internal Revenue of TWENTY ONE MILLION AND THREE HUNDRED KINA and unused funds from this year 2013.
Minister PUNGHAU said that the 2014 ABG Budget is about focusing on the people of the districts by addressing service delivery mechanisms which have hindered the flow of these services to the rural communities.
He said these will be addressed by increasing revenues and providing good facilities and infrastructures such as roads, schools and health facilities.
The 2014 ABG Budget will be passed by the ABG House of representatives tomorrow afternoon just before Bougainville moves into the festive mode to welcome 2014 as of midnight tomorrow.
30.12.2013
Source: Radio New Dawn on Bougainville
NEW MEMBERS MAKE MAIDEN SPEECHES TO ABG HOUSE
By Aloysius Laukai
The five newly elected ABG members this morning gave their maiden speeches to the ABG House at the 2014 ABG BUDGET session.
The first to speak after they were called in to make their speeches was the member for LULE, FR. JOSEPH NABUAI who thanked the people of LULE for having faith in his leadership and mandating him to represent them in the next one and half year.
Then the re-elected member for KONGARA, DOMINIC ITTA made his presentation to parliament stating that his time out of Government was good as he learned a lot from the people during this time.
He said that the Government was far away from the people and this must be addressed so that the people have faith in their government.
The other re-elected member, THOMAS KERIRI also wanted the ABG members and Ministers to support the ABG to address issues of Marijuana and homebrew in the villages.
He said because the economic activities of cocoa and copra was not good the people were resorting to illicit drugs which must be addressed.
The newly elected member for Hagogohe, PETER SOHIA called on the members to start talking on the referendum process as it was getting close and nobody was talking about it.
And the new member for PEIT, JEROME TSIMOLI SAWA wanted some changes in his electorate.
In his maiden speech he called on the ABG to inject more funds to PEIT so that this last frontier can be developed.
He said the people of Peit were without a strong leader for a long time and this has resulted in his electorate being left far behind by other electorates on Bougainville.
MR. SAWA said he intends to change this in his short term in office.
30.12.2013
Source: Radio New Dawn on Bougainville
TASMAN ISLAND TO HARVEST SEA CUCUMBER
By Aloysius Laukai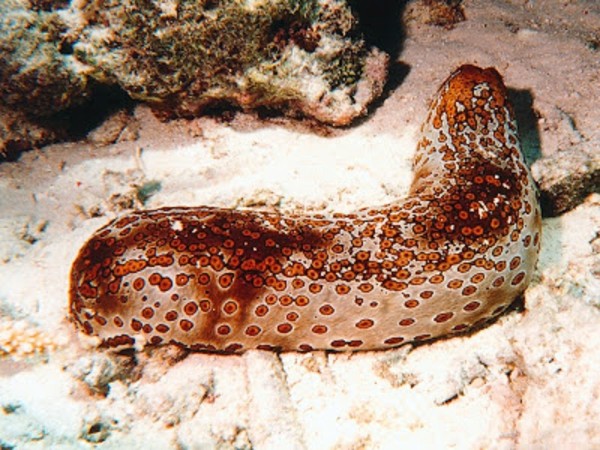 The former ABG member for Atolls, TAEHU PAIS says that his people will harvest their Sea cucumber in the new year despite the extension of BECHE DEMER and other marine food ban that is in place throughout Papua New Guinea.
He told New Dawn FM in Buka that his people have suffered for so long due to this ban which does not serve the interest of the people of Atolls who rely heavily on marine products.
MR. PAIS said that the survey on marine seafood was carried on some parts of Bougainville and not the Atolls who still have these untapped resources.
He said the people of Atolls have no other means of making money and the ban by the Fisheries Department has put them below the poverty line.
MR. PAIS said that he has already written to the Fisheries Department concerning this matter but to date no response has been received from them.
Delicious meals prepared with sea cucumber: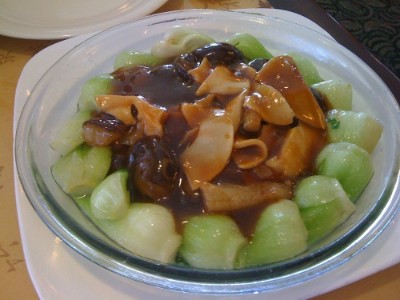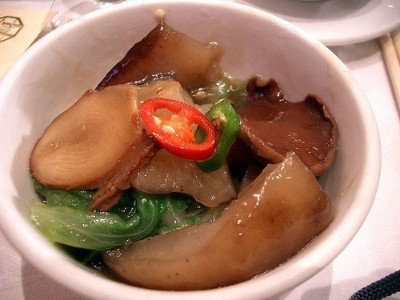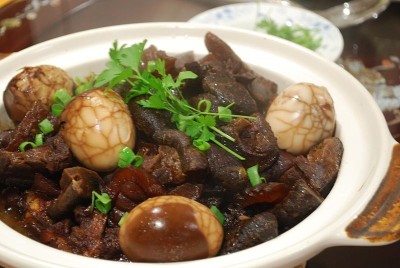 30.12.2013
Source: Radio New Dawn on Bougainville
ECONOMIC ACTIVITY PARAMOUNT BEFORE REFERENDUM
By Aloysius Laukai
The Autonomous Bougainville Government is trying to consolidate the Bougainville Peace Process by injecting funds on the Economic and Infrastructure development to prepare the people of Bougainville for the conduct of referendum.
ABG ministers for Finance, Planning and Treasury, ALBERT PUNGHAU made these remarks in his budget speech to the ABG House this morning.
He said that a substantial injection of funds into the budget based on the ABG Priorities will enable the people to have a real choice when the time comes for the conduct of the Referendum.
The Minister said that infrastructure development in all areas should support efforts being made throughout the region on Peace Building.
He said that from the 3rd tranche of the SPECIAL INTERVENTION FUNDS or ONE HUNDRED MILLION KINA should see many projects get off the ground however the challenge was with the ABG on how they will manage these funds so that many of these projects can be implemented.
New Dawn FM understands that many projects featured under the Special Intervention Fund are yet to be scoped for implementation.
30.12.2013
Source: Radio New Dawn on Bougainville
ABG ADDRESSES WEAPONS DISPOSAL
By Aloysius Laukai
The 2014 ABG Budget also looks at addressing, Economic Development, Peace and Security, Law and Justice ,Weapons Disposal, Human Development, Health and Education.
Funds are also being allocated for Rural Electrification, Water and Sanitation with a substantial amount going for the Sealing of roads, Feeder roads and shipping for the Atolls people who have been neglected for a long time.
These were announced by the ABG Minister for Finance, Planning and Treasury, ALBERT PUNGHAU this morning in his 2014 ABG BUDGET Speech at the ABG House.
He said that the National Government for the first time has allocated separate monies for the payment of salaries of Ministers and members of the House of Representatives through a new grant type called Other Service Delivery Function Grant totaling FIVE MILLION SEVEN HUNDRED AND SEVENTY ONE KINA.
MR. PUNGHAU said that the remaining balance of ONE MILLION FOUR HUNDRED AND NINETEEN KINA will come from the Goods and Services grant.
He said that this will help the ABG utilize some funds on areas of priority which have been needing funding.
30.12.2013
Source: Bougainville24
Moanava staff tackle STI taboos
By Tevu Tenasi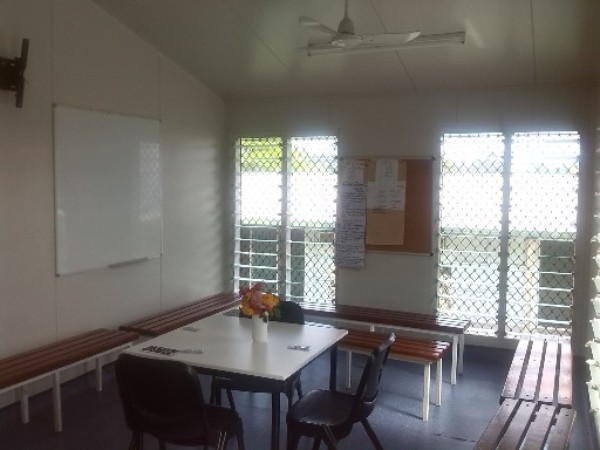 The patients' waiting room at the Moanava Clinic within the Arawa Health Centre.
With development picking up pace in Central Bougainville the Arawa Health Centre too has been making a great comeback with the delivery of primary health care services.

The Moanava Clinic is the newly established section within Arawa Health Centre that is designed as a specialised sexual health clinic.

This is a long awaited service in Central Bougainville and is now provided by the National Department of Health with AusAID assistance.

Moanava is a term derived from the Kieta Language meaning 'house of peace' and this carries the connotation of an environment that is free of stigma and discrimination.
Since opening at the end of September 2013, three health workers have been engaged at Moanava to provide gender specific services to the surrounding communities within Central Bougainville.
The nursing officers, the district HIV/STI coordinator (Sr Christine Lekara), the community health worker (Joanitha Tavaio) and I all feel that it is a great challenge dealing with such sensitive issue.

The Clinic is unique as it offers gender specific treatment with male health workers for male patients, while female health workers attend to female patients.

The clinic addresses Sexually Transmitted Infections (STIs) through the three-pronged approach of proper medical examinations, health education and treatment.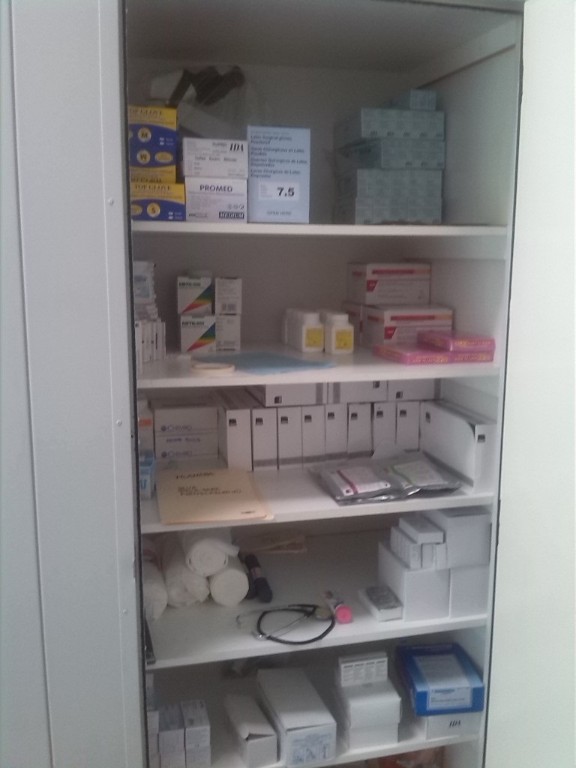 The drug treatment cabinet is only part of Moanava's services to the community.

From day-to-day patients come in with complaints such as urinary and vaginal discharge syndrome, lower abdominal pain syndrome, genital warts, syphilis and other STIs that require medical examination before treatment is offered.

Recognition of the Moanava Clinic within the community has brought an increase in the number of patients for HIV and syphilis testing prior to treatment.

Health education is delivered to patients during group counselling on risky behaviours, such as having multiple sexual partners, underage sex and other social issues.

An expansion of health awareness has been proposed to boost prevention with key groups, such as primary and secondary school students, other youths and women groups.
Tevu Tenasi is the Clinic Officer in Charge at the Moanava Clinic within the Arawa Health Centre.
28.12.2013
Source: Radio New Dawn on Bougainville
POLICE THANKS CITIZENS
By Aloysius Laukai
Bougainville Police Service are thanking the people of Bougainville for a Peaceful Christmas throughout the region.
PSC for Buka police Station Sergeant EMMART TSIMES made these comments on New Dawn FM this afternoon (pictured).
In his live presentation on NEW DAWN FM this afternoon, MR TSIMES praised the people of Bougainville for observing Christmas peacefully.
He also called on them to continue this same spirit into the new year.
MR TSIMES also thanked the Bottleshop owners for honoring the liquor ban that is in place until 3rd January, 2014.
New Dawn FM will continue to carry out awareness's with authorities throughout the festive season to make sure Bougainville is safe and free for all to enjoy into 2014 and beyond.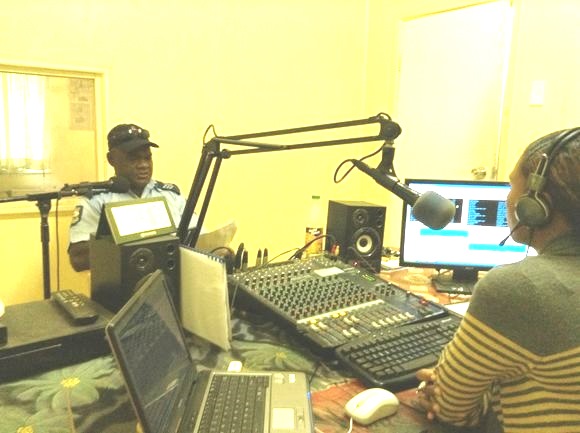 28.12.2013
Source: Radio New Dawn on Bougainville
BOUGAINVILLE SOCCER PLAN LAUNCHED IN HAKU
By Aloysius Laukai
The ABG Minister for Community Development which covers, Women, Youth, Sports and Churches, MELCHIOR DARE officially accepted a plan to get Soccer on Bougainville into the next level at a small ceremony in Haku yesterday.
MR. DARE was in HAKU to open the Christmas and New Year Soccer Tournament at the LEMANMANU Parish organized by the Haku Sports Association.
Under the proposed plan delivered to the Minister by RUSSEL TSUGA a former Soccer Administrator, soccer on Bougainville will be managed by the Bougainville National Football(SOCCER) Association.
The Association will be headed by a Director, President, CEO and Finance officer and would have structures that goes into schools all over Bougainville.
Under this new plan Bougainville will develop its own players to play locally or even they can play in PNG and overseas.
The document will be tabled to the Bougainville Executive Council for approval before implementation.
28.12.2013
Source: Radio New Dawn on Bougainville
DARE PRAISES THE PEOPLE OF HAKU
By Aloysius Laukai
The ABG Minister for Community Development, MELCHIOR DARE yesterday praised the people of Haku for maintaining Peace and good order in their communities.
He said Haku had and continuous to have Intelligent people from the past and should also maintain this status.
MR. DARE was speaking at the Launch of the Haku Sports Association's Christmas and New Year tournament.
The Minister said that HAKU although were located at the back of all constituencies on Buka island, it continues to be the driving force of all major Bougainville's activities.
The local priest, FR. ANTHONY NAWATA also said that the Church and the people were working together to make sure that HAKU maintains its name on Bougainville.
The Haku Sports Association, Christmas and New Year tournament WILL NEXT Tuesday.
27.12.2013
Source: Radio New Dawn on Bougainville
POLICE WARN ON BEER SHOPS
By Aloysius Laukai
Bougainville Police Service are warning Liquor Shop owners not to trade during this Christmas and New Year Liquor Ban throughout Bougainville.
And those Traders caught trading will have their stocks confiscated and their Licence cancelled.

This warning was sounded by Bougainville Police Service officer and In-charge of CID Section, Constable LILIAN SOLAS.
She told New Dawn FM last night, that although the place was quite some people were still selling liquor secretly to customers.
Constable SOLAS said that the ban was for the common good of the people of Bougainville.
She said that Bougainville Police were carrying out foot patrols on the streets of Buka town to make sure this ban is implemented.
So far some outlets have been caught and their stocks removed.
27.12.2013
Source: Radio New Dawn on Bougainville
NINETY PEOPLE HOMELESS
By Aloysius Laukai
About ninety people including women and children of SING village on Buka island are without food and shelter this festive season due the ongoing brewing and consumption of Homebrew despite numerous awareness campaigns made by Police, Churches and concerned citizens.
These ninety people are now camping at the HAMATANA Primary School awaiting the situation to improve before they can start rebuilding their homes.
14 Houses at their Sing village were burnt to ashes by relatives of a deceased who was stabbed to death near their village when returning from the presentations at the SASALAN HIHIKUMA FESTIVAL last Friday night.
Their chief JOHN KABIN told New Dawn FM yesterday that they have set up a committee to liaise with authorities on how they can solicit support and start rebuilding their homes.
He said that situation was still tense and relatives of the deceased still demand Compensation from them for their son.
MR. KABIN said that a meeting with the two ABG members representing the two groups will try to sort out all outstanding issues as his people cannot go into the food gardens to get food due to threats of attacking them again.
Meanwhile the Coordinator for the Bougainville Disaster Office, FRANKLYN LACEY says that he is still waiting for funds from the National Disaster Office in Port Moresby to assist the people of South Bougainville who's food gardens were destroyed by recent heavy rains.
He said a total of TWO HUNDRED FIFTY THOUSAND KINA was approved by the National office but to date he was still waiting.
The Bougainville Disaster office has already provided food for the victims with funds totally FIFTY THOUSAND KINA.
27.12.2013
Source: Post-Courier
Northern Bougainville police chief appeals for end to homebrew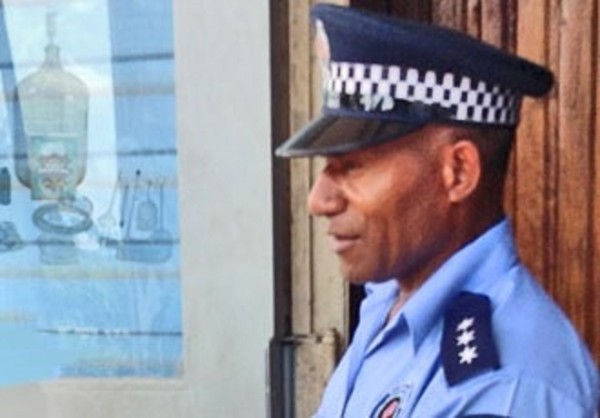 BOUGAINVILLE'S Northern police commander Spencer Aili (pictured) has appealed to those brewing illegal spirits to cease immediately. His call comes after the homebrew-related death of a youth on Friday at Sing Hamlet in Buka. According to a police report, the deceased, John Kavaro of Noupan village, was drinking homebrew on Friday night with two friends when they met two other drunks. The murder suspect asked the deceased for some more alcohol and an argument resulted. Seeing his friend being beaten, the suspect retaliated with the use of a screwdriver, stabbing Kavaro in the forehead.
He was rushed to hospital where he was pronounced dead. The deceased's relatives retaliated by burning 13 houses in Sing Village. The villagers fled their houses in fear. The suspect was also badly beaten after the incident by the deceased's relatives. He has sustained serious injuries. The situation, according to police, remains tense. Commander Aila has appealed to the deceased's relatives to remain calm, saying they must work together with their leaders and assist police investigations to bring those involved to justice.
He reiterated his message on the manufacture and consumption of illegal homebrewed spirits: "We are approaching Christmas and New Year and it is the time everyone becomes involved in alcohol and illicit spirit consumption," he said. "We used to see many deaths in relation to alcoholism issues. When we are talking about brewing and consumption of illicit spirits, we are not joking." The commander has called on chiefs and other community leaders to assist his men in their Christmas and New Year operations to ensure a peaceful festive season.
27.12.2013
Source: Post-Courier
Couple grateful for 'miracle'
By VERONICA HANNETTE
A COUPLE who had been longing for a child after tying the knot 27 years ago had their wishes come through last Christmas when they welcomed their bouncing baby girl Mary Jessica as a gift to them.
Gregory and Catherine Sumi, both from South Bougainville, tied the knot in 1986 at Monoitu Catholic Church in Siwai. Since then they had wanted a child to strengthen their marriage but they were going through some difficulties and could not have children. "We were not sure if the problem was with my wife or me," Mr Sumi said.
He said they had been trying for a child but had lost hope as the years wore on. "We went for medical check-ups but found that nothing was wrong with the both of us. "We always prayed to God for a miracle to happen and held on to each other having faith that everything will be alright," said Mr Sumi.
Eventually after 26 years his wife fell pregnant with their first child at the Flores Clinic & Diagnostic centre in Lae Town on December 17, 2012. He said no words could express the joy that he and his wife had when they found out that she was pregnant.
Mr Sumi said when the child was born he was staring in amazement at the child from head to toe, struggling to come to terms with the fact that they finally had their own flesh and blood. "It was a dream come true for us after 26 years of marriage and I encourage couples and those that are married for years that patience and faith is a virtue," he said.
"Most couples divorce because the wife cannot conceive but that is not the whole reason, if you really love each other hold on and let God take the lead as he has his own ways to bless a family."
Mr Sumi, 50, a senior cons-truction supervisor with Oil Search Limited, welcomed their bouncing baby girl into the family last year and held their hope high that the child would not lose them along the way.
"When Mary Jessica was born, I was blessed that that was the joy in my life that I have been waiting for," he said. "However, I was not sure if she will survive the first year but she did and I am so grateful that my daughter is blessing to me and my wife." Mr Sumi held a celebration on Wednesday to mark his daughter's first birthday and said love bonds a family together and patience comes with it.
27.12.2013
Source: Bougainville24
The Iburai Falls
By Leonard Fong Roka
Before the crisis a weekend pastime of BCL employees was the walk from Panguna to Arawa through the Kupe Mountains, enjoying the freedom the jungle and wildlife gave them after days of tiring work at the office or in the mine.
The trail is rugged, rocky and with a bounty of waterfalls as it meanders along the tributaries of the Bovong River.
One such waterfall with a history of tragedy is Iburai in Kupe
In 1988 we were at Sunday church service when a Canadian was washed down some 200 meters to his death as people watched from a hillside hamlet.
A BCL chopper later came and picked the deceased up. After that his relatives regularly came with food and visited the fall up until the crisis.
26.12.2013
Source: Radio New Dawn on Bougainville
BUILDINGS DESTROYED
Villagers standing outside their buildings destroyed last Friday night in Buka
Picture by Aloysius Laukai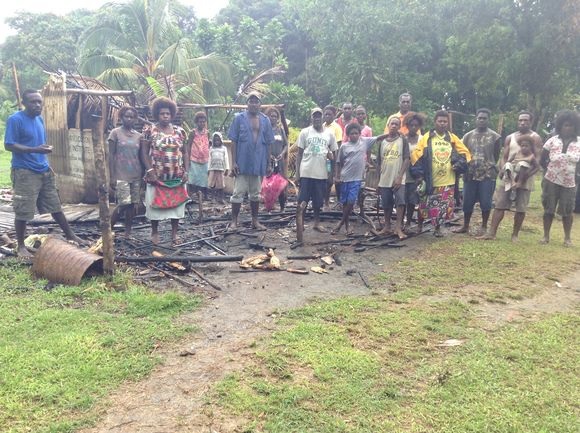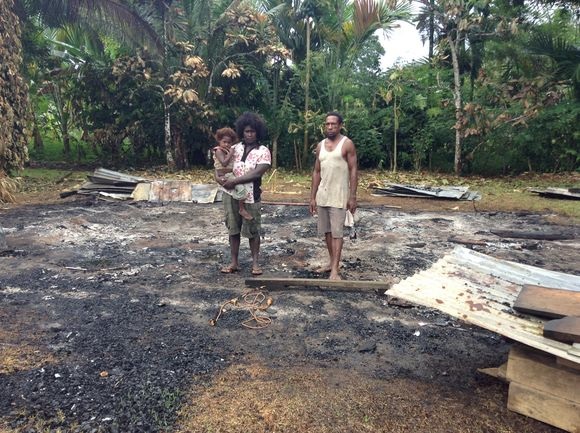 Dorah Totsi and husband Sanopo Wama standing at the place where their family house used to be.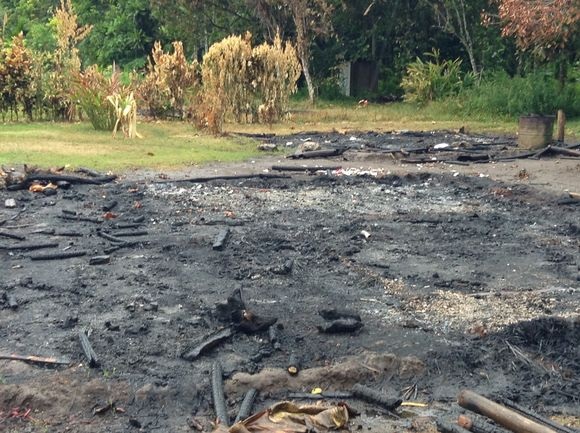 They told New Dawn FM that they lost ONE THOUSAND KINA cash during the raid.
They are now appealing for some assistance.
26.12.2013
Source: Radio New Dawn on Bougainville
NEW MEMBERS TASKED TO SOLVE FIRST PROBLEM
By Aloysius Laukai
The two newly elected members of the ABG representing the people of PEIT and HAGOGOHE were tasked to show their leadership and Quell the first conflict as leaders representing their people.
The two members this morning had a meeting with the people of SING village in an attempt to find a lasting solution to the problem that has left more than 90 people homeless after their houses were burnt following the death of a man near SING village last Friday night.
Yesterday, the Bougainville Disaster office managed to supply these villagers supplies of rice and Noodles enough to feed them for a month.
The Bougainville Disaster Coordinator, FRANKLYN LACEY told New Dawn FM this morning that the people are in need of food as their food gardens were also destroyed by relatives of the death person.
He said the meeting between the two leaders will try to calm the situation as the situation in the area is till tense.
New Dawn FM visited the area and talked to the people who said that they were innocent victims of someone's doing.
A family told New Dawn FM that they lost ONE THOUSAND KINA cash during the burning and looting of their properties.
26.12.2013
Source: Radio New Dawn on Bougainville
Bougainville Peaceful
By Aloysius Laukai
Lilian Solas CID officer appealing to the people of Bougainville live on New DawnFm tonight.
Constable Solas has appealed to the people of Bougainville to maintain the peaceful atmosphere that they have shown during Christmas and must continue into the New Year.
She said that Police are patrolling the streets of Buka town to make sure Liquor outlets donot sell during this Liquor Banned period.
She said so far so good and wants this to continue.
MS SOLAS says that no major disturbance has occured apart from the death just before Christmas after the Sasalan Hihikuma Festival in Hamatana.
She said Police was working on this case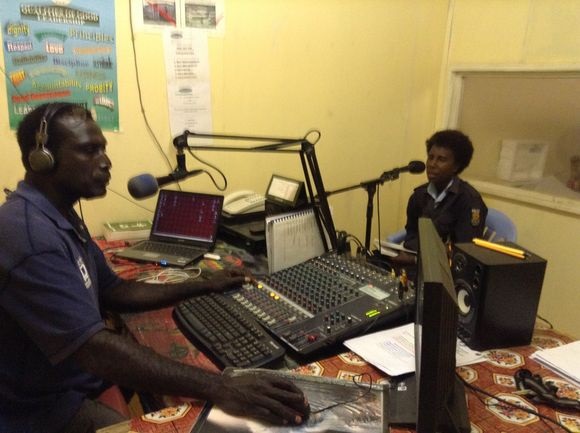 26.12.2013
Source: Radio New Dawn on Bougainville
MINISTER DARE ASSURES HAHALIS PEOPLE
By Aloysius Laukai
The ABG Minister for Community Development, MELCHIOR DARE has assured the people of HALIA that the ABG was in control and that by 2014, the people will see some changes in the delivery of Government services to the people.
Minister DARE said that the enactment of the INWARD OUTWARD Bill will control investors and also protect local Bougainvilleans who want to venture into Businesses.
On the ABG education act 2013, Minister DARE said that the law makes education compulsory in Bougainville and that parents who do not put their children to school will be breaking this new law.
He said this is because the ABG wants to invest in Education and to make sure all school aged children go to schools.
MR. DARE made these remarks at the HAHALIS HINPIEN FESTIVAL which started today and ends tomorrow.
He said that the people of Buka island were first in re-establishing peace on Bougainville and staging Festivals for children was a way to go for Bougainville.
MINISTER DARE said that Bougainville needs to invest in its Human resources and this festival was one sure way of addressing that.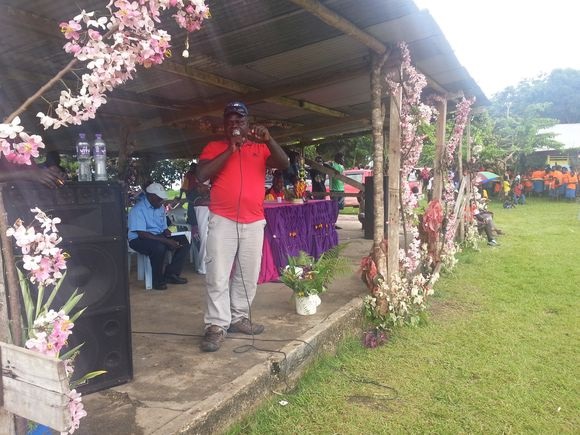 Pictured is the Minister making his speech at Hahalis
26.12.2013
Source: Radio New Dawn on Bougainville
POLICE SUPPORT COMMUNITY EFFORTS
By Aloysius Laukai
The Bougainville Police service supports community activities that promote peace and unity especially during festive seasons.
SENIOR SERGENT EMART TSIMES from the Buka Police Station made these comments at the HAHALIS HINPIEN FESTIVAL today.
He praised the people of HAHALIS for maintaining Peace and Good order during the Christmas period and urged them to continue into the New Year.
SERGENT TSIMES said that the work of maintaining Peace and good order depends of the Communities starting with families.
On the raising of children, SERGENT TSIMES called on the parents of HAHALIS to make sure they educate their child starting from their homes and not to allow them to be educated by the Education system which he said comes later in life.
He called on parents of children to be responsible as they are their own creation and not something that comes out of somewhere.
26.12.2013
Source: Radio New Dawn on Bougainville
HAHALIS HINPIEN FESTIVAL OPENS
By Aloysius Laukai in Hahalis.
The two days Hahalis Hinpien Festival opened this morning with parade by participants of the four wards that are covered by the Hahalis village Assembly.
The Hinpien festival is involving students of the Hahalis Primary School oh for this festival have been divided into the four wards.
This means that like the State of origin mentality all students have gone back into their wards to participate at this first festival.
According to the two days-program the students will participate with various activities from Solomon dances,Cultural activities, Choirs, Stringbands,Quizes and other activities.
Chairman of Chairmen's for Buka COEs and Chairman for the Halia Coe, ROMEO TOHIANA thanked organizers for staging this festival which is an eye opener for the people of Halia and Bougainville as a whole.
He said he would like the Teachers to also participate at these festivals because this is a learning program for the children of Halia and Bougainville.
He said that he would talk with the ABG especially their local member and Vice President,PATRICK NISIRA to allocate some funds to make sure this becomes a annual festival.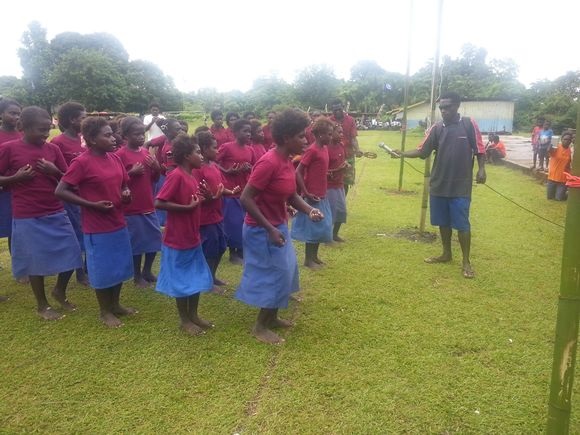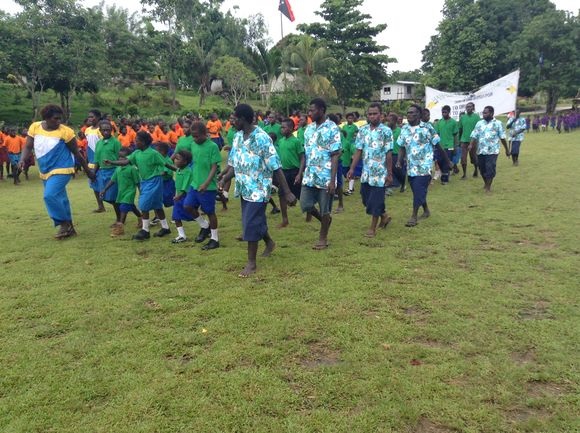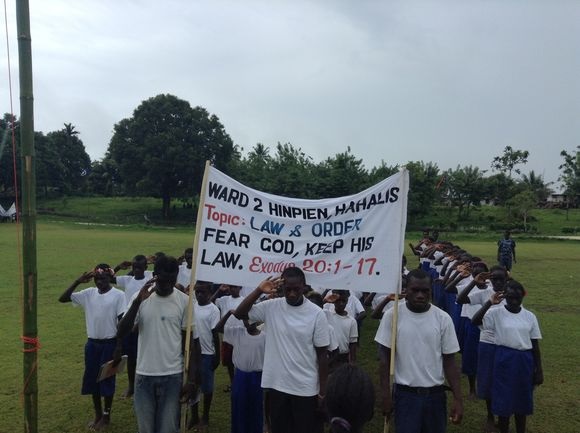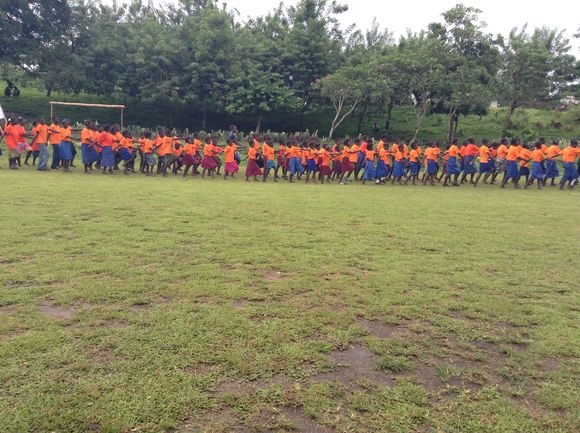 26.12.201
Source: Post-Courier
Volunteer group brings Christmas cheer to family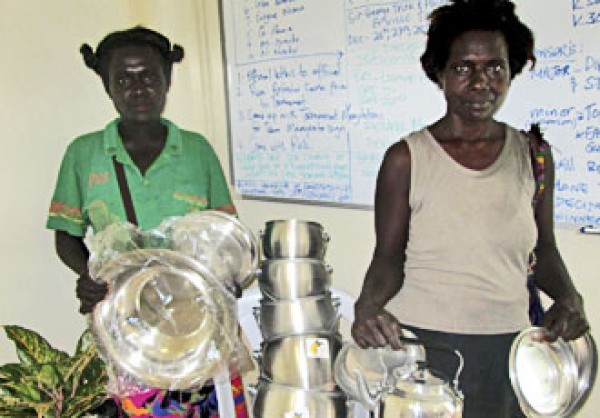 TWO mothers received cooking utensils on behalf of their families, whose houses were accidently burnt to ashes while they were fast asleep at Siroai village in the Apiatei area of Kieta District, Central Bougainville. Their two boys, Junior Ipera (Grade 7) and Jeremy Omari (Grade 4), who were attending Pavaire Primary School, were sleeping in the family house when it caught fire. Luckily they escaped unhurt. All their belongings were burnt down with the house. When word reached the Good Samaritan Natural Disaster Volunteers (GSNDV) in Arawa, it did not not hesitate to send cooking pots to help the family during the festive season. Words & Picture: ROMULUS MASIU
26.12.2013
Source: Post-Courier
The King and I
WHEN would you like to hold the interview?" asks the Fijian.
He is a large man – ex-Special Forces with an active Middle Eastern tour under his belt.
"Well, I'm here now, so let's go ahead and do it," I reply.
I am in the south of Bougainville Island and dressed for the tropical heat in a singlet and shorts.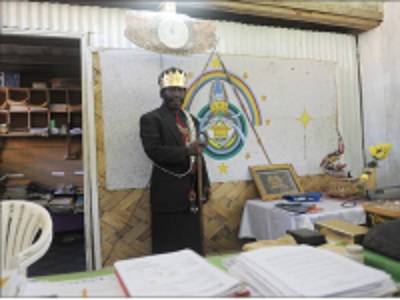 He looks me up and down and there is a slightly amused glint in his eyes.
"You will have to go and get changed," he says. "You are about to meet Royalty."
"Yes, yes, of course," I mutter and wonder where I will find clothes fit for a royal audience. Home is a seven-hour rough drive away in Buka town and I have only brought casual gear on this journey.
I tell him I am staying in a nearby village and will return within the hour.
He nods and we shake hands. I walk to the hired Landcruiser with Lepo, my partner's cousin who is Commander of the King's Royal Guard – a militia made up mainly of ex-rebel soldiers from the ten-year Bougainville Civil War. The war was a brutal episode in Bougainville's recent history which claimed up to 20,000 lives. It was sparked by landowners of the giant Panguna copper mine area who became sick of receiving negligible benefit from the mine. They were also devastated by the destruction of their land, environmental damage on a scale they did not anticipate. What started off as essentially an environmental battle escalated into a secessionist war against Papua New Guinea.
Though a peace agreement was signed between the PNG Government and the various fighting factions in 2001 there are still armed pockets of rebels who did not sign the agreement.
Shunning the peace agreement, the rebellion's father, the late Francis Ona, set up the Kingdom of Me'ekamui – meaning Holy Land – in the Panguna mine area, proclaiming it a no-go-zone.
In the early 2000s Noel Musingku, originally from South Bougainville, was forced to leave PNG's capital, Port Moresby after his money scheme U-Vistract – which originally started as a Christian Mission in Australia – brought him to the attention of local authorities.
In 2003, after spending time in the Solomon Islands, Musingku sought refuge with Ona for a while. Musingku then set up his own Me'ekamui stronghold in Tonu, South Bougainville – naming it the Twin Kingdoms of Papaala and Me'ekamui. Today he rules as King David Peii II.
From his remote, fortified stronghold, Musingku operates the International Bank of Me'ekamui which offers "world class financial solutions" via its Website. Musinkgu has assured U-Vistract investors their money is coming soon. He denies he is running a cargo cult.
The Fijian is the last remaining ex-soldier from a contingent of nine who came to Bougainville eight years ago to train Musingku's militia. Their arrival sparked a major international incident between Papua New Guinea and Fiji. The former soldiers were forced to leave – some surrendered to the Papua New Guinea Government whilst others escaped through the nearby Solomon Islands. The Fijians had come on the promise of F$1million each.
The remaining Fijian tells me he is still here, in part, to ensure that promise is kept.
Lepo and I reach the Landcruiser where my partner's relatives are waiting. I tell them I have to go and change into "smart" clothes and they howl with laughter. A white man being told he has to dress up neatly to meet a black man is great sport to them.
I am less amused but they tell me they will scrape together something suitable for a royal audience.
The village is about twenty minutes away by road and the boys in the truck are still chuckling when we arrive.
The villagers are curious about my visit. None of them has ever seen the King – he never leaves his Kingdom – but they all have stories to tell about him.
"He wears a five-kilogram pure gold crown on his head," one informs me, eyes shining at the thought.
"Ask him when the money is coming," says another.
The day before, I had arrived in the village after having organised my audience with the King through my partner's uncle John, a local chief. He had made the necessary arrangements with Lepo.
After I had settled in the village, John called Lepo and, whilst I couldn't understand what was said, I did catch the word "Fijian" a couple of times. When John hung up he had a worried look on his face. He said the Fijian had raised some questions about my visit.
John decided to ride his bicycle to see Lepo and make sure I would be safe.
He arrived back some hours later looking a bit edgy and said I had to meet with the Fijian who would then decide whether I could have an audience with the King.
That night I had strange dreams that came close to being nightmares.
***

IT IS morning and I jump into the Landcruiser's front seat whilst John and a group of village boys hop in the back.
We drive in silence and as we get closer to the miltarised self-ruled kingdom I feel a nervous urge to make small talk with the driver.
The road leading to Tonu, unlike the others in the district, is well-maintained. At intervals, half the road is blocked by rock piles – alternately on the left then the right side – to ensure vehicles drive at a respectful speed.
We pull into Tonu proper, the driver parks the Cruiser and we jump out. he Kingdom looks like any small town in PNG, though is neater than most.
There is a big sign declaring Papaala to be a Sovereign Nation. The path to the Royal Headquarters is barred by a boom gate where an unarmed soldier from the Royal Guard sits. Maybe there are weapons in the guardhouse. I don't ask.
John tells the guard we are looking for Lepo and he sends word. Shortly a grim-looking man wearing neat military gear walks towards us. He's a big, solid black guy – Bougainvilleans take pride in being the blackest on the planet – and he doesn't smile, even when being introduced to me, his in-law. But the big man is, nonetheless, polite.
Lepo takes me to a nearby hut and tells me to wait while he fetches the Fijian. The two return and I am introduced to the former Special Forces combatant, who smiles as he shakes my hand.
He asks me my intentions and I explain that I am a journalist based in Bougainville, here to write a story about the King. Whilst he does not make it obvious, I know the Fijian is closely studying me and what I am saying. Journalists are to be treated with caution, the King has had a lot of bad press – mainly from people who have not met him.
After a few minutes of discussion, the Fijian indicates he is satisfied by my answers and says I may ask the King as many questions as I like.
I tell him I am grateful and this is when he asks me when I would like to conduct the interview.
Arrive back at Tonu from the village dressed in oversized jeans and a scruffy long-sleeve button-up shirt. For this part of the world the outfit is more than formal. Lepo greets me and this time he is smiling.
He escorts me past the guardhouse up to the Protocol Office and leaves me at the door.
I'm met by two men who write my details down in a ledger. They are happy when I tell them of my connection with Lepo – but it affords me no privilege. I will still have to undergo further checks before I can meet the King.
Whilst waiting for Lepo to return the two protocol officers tell me about the kingdom. They speak with enthusiasm about God, who has blessed and protects the King.
They explain how the King is going to revolutionise the economy not only of Bougainville but the entire World. The kingdom, they proudly tell me, has printed its own currency. The different denominations feature variously the heads of Francis Ona, Jesus and the King himself.
The Bank of PNG had recently placed ads in the newspapers warning people not to accept these Bougainville Dollars.
The men also inform me that in the Kingdom it is already 2014 and the current month is Jasper – all months here are named after minerals mentioned in the Bible.
I nod as I take all this in, genuinely fascinated.
Lepo returns and takes me to a third checkpoint, the gate of the Royal Headquarters compound.
Here I am met by a small group of men who ask me the same questions but this time I am searched and my camera is taken from me to be scrutinised.
When I tell them I am connected to Lepo's family the group leader shakes my hand and beams.
"I know you," he says and opens the gate.
On the inside of the compound is a small hut occupied by two older men. They are extremely welcoming and shake my hand with enthusiasm.
They ask me all the same questions but I am not searched.
The two tell me how pleased they are that I have come to visit their King but before I can proceed we must pray. We close our eyes and they lay hands on my shoulder, chanting loudly in a tongue I have not heard before. I feel slightly disoriented but the prayer is soon over and they send us on our way with God's blessing.
We walk towards the Royal Headquarters, a plain fibro building, and enter an open door.
Inside is the Fijian, calmly smiling.
He is sitting at a long bench, at the head of which is another man with a notebook.
The Fijian gestures for me to sit and sends Lepo out to fetch ice creams. The man with the book looks at me, pen poised.
"Name?" he asks.
After all my details are written in the notebook they tell me the King is waiting for me in his office. I must go into the other room and wait for him. I am to stand when he enters and will address him as Your Majesty.
I nod and am reminded I may ask as many questions as I wish.
The King is, I imagine, sensitive about his financial dealings and I search for a polite way to say so. The Fijian makes it easy for me.
"Ask about any subject," he says.
The man with the notebook re-enters and I am told the King will see me now.
The Fijian and I enter. In the corner sits a big man who nods in greeting. The room is simple – a desk, some plastic chairs and a royal seal on the wall.
We sit and shortly the Fijian gestures for me to stand. From an adjoining room the King emerges. He stands still in the doorway long enough for me to take in the full majestic sight of him.
He is dressed in a sulu suit, has a large gold crown on his head and is clutching a sceptre which he places in a special holder. He nods regally at me then walks over to take the Fijian's hands. They pray loudly and the Fijian leaves, locking the door behind him.
"Knock on the door when you're finished and I'll let you out," he says.
The King asks me to sit down then sits himself.
The big guy in the corner off to the side is silent and although I can't see him I can feel his presence.
The King welcomes me to his kingdom and lets me know how happy he is for me to be here. Then before I can ask my first question he starts giving me a detailed outline and history of his operations.
When he stops for breath I ask if I can turn my tape recorder on. He explains that we are currently just chatting – the interview has not yet begun – but, yes, I am welcome to start recording.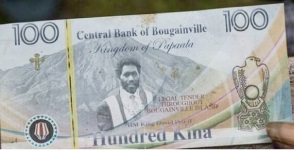 The King is a fine orator. His mind is clearly full of many ideas and thoughts which tumble from his mouth at lightning speed, one topic quickly turning into another. At the university he took courses in engineering, architecture, computing, law and politics.
It is easy to see why people follow him. He has an indefinable charisma. And, yes, he is evangelical in the Pentacostal mold. Whatever people may think about him – many are scathing – he is a remarkable character.
Musingku speaks at length about his plans to unify Bougainville. But he says the Autonomous Bougainville Government refuses to fall in with his plans – plans which, it must be said, are somewhat unorthodox.
Musingku has been accused of being a separatist and a hindrance to the Bougainville peace process.
In 2006 a neighbouring warlord led an armed attack on the Kingdom but retreated when one of his men was killed by the Tonu forces. Musingku himself was shot in the jaw, the bullet leaving a still-visible hole and shattering several teeth.
The two leaders have since reconciled.
I ask the King how he felt about getting shot in the face.
"It is God's will," he says, looking me in the eye.
The fact that despite being a marked man he has survived for so long is, he says, part of God's Master Plan.
He tells me a new shipment of banknotes is on the way and I ask what reserves he has to support the currency's integrity.
We are sitting on a wealth of gold in the ground, he says.
He shows me documents from the International Monetary Fund, the European Council and International Organization for Economic Development. The documents state that these organizations recognize Musingku's "Government of Bougainville Island" as the legitimate ruler of the independent state of Bougainville. King Peii II is recognised as the head of that government.
"People may think these are forgeries ," he says, assuring me they are not. I ask him about the money that is owed to investors in U-Vistract, a sum estimated to be up to K350 million. It has been over a decade and people are still waiting – with varying degrees of patience.
It's coming, he says and shows me a shipping manifest listing jeeps, fire engines and heavy machinery. This cargo is arriving soon, I am told.
There is a sports festival taking place in Tonu which will go on for forty days and forty nights. At the festival's conclusion, the money and cargo will arrive.
We rise and shake hands, the King again thanking me for coming to visit.
Before I depart he invites me to come back in a week's time to witness the distribution of the cargo. I tell him I shall if I can.
I knock on the door and the Fijian lets me out.
Lepo takes me on a small tour of the Kingdom and I watch some youths playing soccer. On the way back to the Landcruiser I am met by the protocol guys who have come to say goodbye.
They take pictures of me as I leave.
I go back to the village where I spend a wonderful few days relaxing, eating garden food and swimming in the clear, cold, refreshing waters of the nearby river before returning home.
I am unable to make it back to the kingdom at the end of the forty days and nights so cannot, at this stage, confirm arrival of either the cargo or the money.
25.12.2013
Source: Radio New Dawn on Bougainville
PRESIDENT MOMIS WANTS OUTSTANDING RESTORATION GRANTS PAID
By Aloysius Laukai
The ABG President, Chief DR. JOHN MOMIS says that the National Government must pay outstanding monies to the ABG for the Restoration and Development Grants guaranteed by the Bougainville Peace Agreement.
He said that these funds were for the ABG to use on its own priority areas instead of the ONE HUNDRED MILLION KINA which are tied to specialized projects.
President MOMIS made these remarks in his Christmas message to the people of Bougainville broadcasted by NEW DAWN FM yesterday.
He said that the last JSB did not address this outstanding issue and needs to talk with Prime Minister PETER O'NEILL after the New Year to settle this issue.
New Dawn FM understands that the Prime Minister will visit Bougainville in January, 2014 and will travel all the way to Buin in South Bougainville.
25.12.2013
Source: Radio New Dawn on Bougainville
BUKA TOWN QUITE
By Aloysius Laukai
Buka town and nearby villages have been very quite this Christmas compared to previous years.
And a quick check by New Dawn FM confirmed that the streets of Buka town have been empty with few residents sitting outside their buildings showing that the people were present and were still in town.
Buka's Senior Magistrate, BRUCE TASIKUL also confirmed to New Dawn FM that villages along the Selau highway were also celebrating the Christmas festivities quietly as the normal crowds that can be seen on the roads were nowhere to be seen.
He said that he travelled to Buka from his village and was happy to see the people that the people were celebrating this Christmas quietly with their families.
A Correctional Officer based at BEKUT JAIL also said that the road towards Solos has been quiet this Christmas.
He said this could be the result of Police and CIS officers carrying out a combined operation throughout this festive period.
25.12.2013
Source: Radio New Dawn on Bougainville
SANTA ANSWERS PRAYERS
By Aloysius Laukai
The people of Sing village on Buka island whose houses were burnt to the ground last Friday were able to receive some assistance from the Bougainville Disaster and Emergency Office.
New Dawn FM this morning managed to talk to the Disaster Coordinator, FARNKLYN LACEY after he delivered some food items and cooking utensils to those 12 families affected.
MR. LACEY said that his office had to respond to the families who had their properties destroyed following the death of a man from the area last Friday.
Earlier, Police Commander for North Bougainville, INSPECTOR SPENCER AILI called on the people of SING village to allow Police to carry investigations on the cause of the death and the burning of the 12 houses.
He said that Police were not happy as the use of Homebrew was on the rise despite several awareness's carried out by Police throughout the area.
New Dawn FM will visit the area tomorrow to get pictures and talk to the affected communities.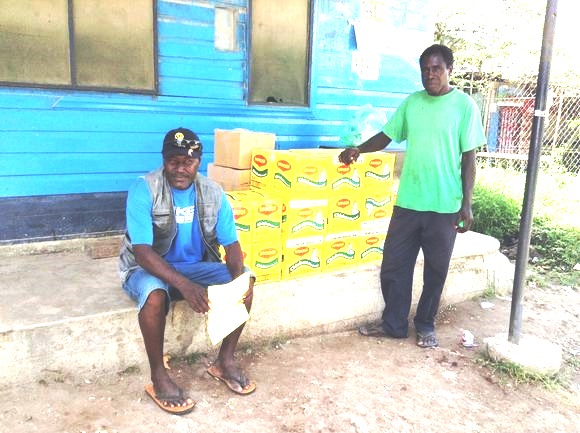 Pictured is the Disaster Coordinator FRANKLYN LACEY (seated) with goods for delivery to the affected.
24.12.2013
Source: Radio New Dawn on Bougainville
2014 LOOKS BRIGHT SAYS MOMIS
By Aloysius Laukai
The ABG President, Chief Dr. John Momis says that 2014 could be a bright year for the ABG.
In his Christmas and New Year message to the people of Bougainville, PRESIDENT MOMIS said that the ABG this year managed to enact the INWARD OUTWARD INVESTMENT BILL which will now guide Investments in the region saying that all countries need investments for growth.
Other laws were the Bougainville Education Act 2013, Public Service act and the mining law which has been questioned by landowners since the first draft was released for comments.
This law could be enacted by the ABG Parliament in the new year.
PRESIDENT MOMIS said despite these setbacks, the ABG managed to move several projects that the people will benefit from in the New Year.
He mentioned the TOROKINA OIL PALM Project that will soon kick off in which the landowners will benefit from the sale of timber that would be harvested when felling the tree to clear land for the Oil Palm project.
He said landowners will have money from these timber even before the project kicks off the ground.
He also mentioned educational trips to Philippines from 42 persons from Central and South Bougainville.
The remaining 21 from North Bougainville will travel to the Philippines in JANUARY 2013.
The ABG President announced that a Passenger boat that can carry more than 350 passengers would be operational by February 2014 and would be servicing a most lucrative route that is from Buka,Rabaul, Kimbe and Lae and back.
He said another boat for the people of Atolls will also be purchased in 2014.
THE ABG President travelled to BUIN today for his Christmas and New Year Break.
24.12.2013
Source: Radio New Dawn on Bougainville
ABG TO SLOW MINING PUSH
By Aloysius Laukai
The Autonomous Bougainville Government will slow its push for Mining in the Autonomous region as from the new year.
ABG President, Chief DR. JOHN MOMIS made this known in his Christmas and New Year message to the people of Bougainville on New Dawn FM today.
He told New Dawn FM that the government was listening to the landowners who wanted BCL to return as investor of the Giant Copper and Gold project but the landowners keep changing sides resulting in the Government losing a lot of money, time and effort in the process that has taken us nowhere.
PRESIDENT MOMIS said that the ABG wants to enact the Mining Law that will protect both the mining company and the resource owners but this has dragged on and on and on with no end in sight.
He said that the ABG is now turning its focus on Agriculture, Fishing and Forestry for much needed revenue.
President Momis said that they will still continue talks on the Panguna mine but on a much slower pace.
24.12.2013
Source: Radio New Dawn on Bougainville
SERVICE RENDERS GO HOME DISSAPPOINTED
By Aloysius Laukai
Many service renders to the ABG went home disappointed after their payments for service rendered were not paid as at close of Business today.
Amongst those who missed out was NEW DAWN FM who had a three-year bill for live Broadcasts of Parliament sessions for 2011, 2012 and 2013.
Although we were assured that these payments would be paid in parts nothing was paid as close of Business today.
New Dawn FM a private communications network has been supporting the ABG since its inception in 2008 could have done more for the region, if bills by Business houses, Government Divisions and citizens were paid in time.
New Dawn FM consumes a lot of funds on Salary, Equipments, Electricity and Phone charges for daily updates to its facebook page and blog.
New Dawn management wishes to send its season greetings to the ABG President, DR. JOHN MOMIS and Vice President, PATRICK NISIRA, Speaker ANDREW MIRIKI, ROBIN WILSON and staff, Chief Administrator, CHRIS SIRIOSI and Staff, Regional member JOE LERA and staff, Doctors and Nurses of the Buka General Hospital, ACP PAUL KAMUAI and Bougainville Police Service, Business Houses, LEITANA NEHAN NGO, TULELE PEISA INC and all listeners and viewers of our blog worldwide.
We would like to mention EUROPEAN SHARE HOLDERS OF BCL, AXEL STURM Bougainville Copper Foundation, PAUL COLEMAN, Commonwealth of Learning in Vancouver, CANADA, UNESCO in APIA Western Samoa, DAVID LEEMING in the Solomon Islands,
German Embassy in Canberra and SPC in Fiji for their support in 2013.
We look forward to our continued collaboration in 2014 to make sure rural communities are informed on activities that may affect them now and in the future.
24.12.2013
Source: Radio New Dawn on Bougainville
WOMENS FEDERATION BOSS GIVES SEASONAL GREETINGS.
By Alex Munme
PRESIDENT of Bougainville Women's Federation, Hona Holan has passed her Christmas and New Year greetings to all women of Bougainville.
She said this time of the year is for all to think of the birth of Jesus Christ. It is a time to reconcile with one another, clean our hearts and receive God into our hearts.
She said we should not cover up but show love, love our enemies as he did by coming into this World to love us.
Mrs. Holan wished all a merry Christmas and a Happy New Year full of aspirations and resolutions and enjoy with peace.
24.12.2013
Source: Radio New Dawn on Bougainville
DENTAL SPECIALIST SAYS TEETH IS IMPORTANT
By Alex Munme
LONGTIME Resident and Buka Hospital Dental doctor, Fred Poli while passing his Christmas and New Year Greetings to students, teachers and Bougainvilleans explained why teeth is very important.
Mr. Poli has said that teeth make people appear handsome or beautiful.
He has said that teeth help to crush and break down food before swallowing it.
Without strong teeth, he said people will only see the food but won't be able to eat what is being served.
He has encouraged all to give glory to God for their teeth.
Mr. Poli has said human beings have 32 teeth so it is important to maintain them.
24.12.2013
Source: Post-Courier
War X returns to stage
War X is a heavy metal outfit from Tinputz, North Bougainville. The name War X has been the pride and glory of the Tinputz people for 20 years. The band is fronted by guitarist Kennedy (right), who has been the major driving force behind their success and popularity in Bougainville. War X have dominated and rocked the stage since 1993 but gave their last performance in 1998 at the Bougainville Show. Kennedy's younger brother, drummer Jolly died in 2001 and Kennedy vowed not to ever pick up a guitar again, so War X was history. However at the Tinputz Cocoa Festival last week, War X got together once again perform for their fans, and they rocked them like they used to. When asked how he felt about performing again after all this time, Kennedy said it felt good!
Words and Picture: FREDDY "FINGERS" MANEO
24.12.2013
Source: Post-Courier
ABG election writs returned
By WINTERFORD TOREAS
WRITS for the by-elections of the five constituency seats in the Bougainville House of Representatives were returned by acting Electoral Commissioner George Manu to ABG Speaker Andrew Miriki last Thursday.
Before presenting the writs, Mr Manu gave a brief update on the conduction of the by-elections. Mr Manu said though there were problems encountered, they were still able to successfully conduct the elections.
"We've had problems since the beginning, but we refused to let these problems hinder and interrupt us to do the duties and responsibilities that we should do," Mr Manu said.
He also commended all those who were involved in the successful conduction of the elections.
Mr Miriki also thanked Mr Manu, the electoral commission staff and all those who were involved for staging a free, fair, transparent and democratic election.
He said though it was not an easy thing to conduct elections, they were still able to successfully complete the election process.
"The success of the by-elections has resulted in the people of those respective constituencies finally electing their representatives to the Bougainville House of Representatives through the ballot process, a democratic process," Mr Miriki said.
"Furthermore, as head of the Bougainville House of Represen-tatives, I am more than happy because at some time ago the House was incomplete through the vacancies of the five respective constituencies. Now they have been filled and occupied through the successful conduct of the democratic process of election.
I now have a complete House to fulfill its constitutional mandate in serving the people through the legislative roles and functions," said Mr Miriki.
23.12.2013
Source: Post-Courier
What warning?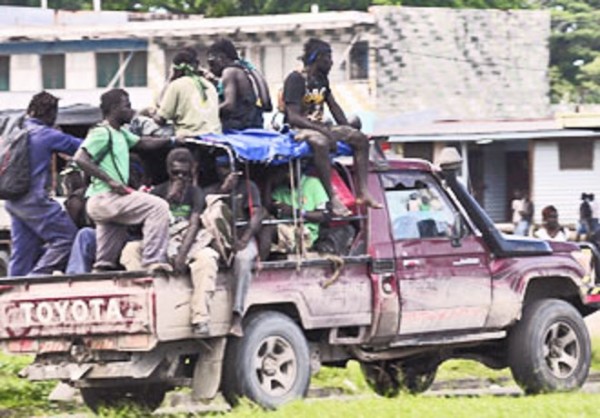 POLICE warning to the traveling public in Bougainville continues to go unheard by motorists and passengers with many drivers still letting passengers to overload their vehicles while on the other hand, passengers don't heed advice from drivers and continue to hop on vehicles when they are already full. Pictured is a Toyota Land Cruiser speeding past the Arawa Police Station fully loaded with passengers destined for their villages. Picture: JACOB IENU
23.12.2013
Source: Papua New Guinea Mine Watch
Australia's War on Bougainville continues by other means
by ramunickel
The drums of intervention are pounding in Australia's security establishment. The target is Bougainville.
Over the past month we have seen a number of observers, connected with ASPI, make dire warnings (The Australian Strategic Policy Institute describes itself as 'independent, non-partisan think tank', an interesting claim given it is funded by the Australian Department of Defence and a number of corporate sponsors that include prolific weapons manufacturers such as Locheed Martin, MBDA Missile Systems and Thales, i.e. companies that profit from death and our capacity to inflict it on greater scales).
Bougainville, ASPI claims, could slip back into civil war. Could is the key word here. Something of a weasel word in fact; America could slip back into civil war, its incredibly unlikely though.
But there is nothing like a good horror story to jolt upright consciences in Canberra, especially when the PNG desk shares a broom closet with DFAT's janitor.
The argument continues, Bougainville is in peril of slipping back into civil war unless 'we' act now. For 'we' insert Australia, and the United States – China is notable by its omission.
'We', Australia, ASPI have argued – in a December report – need to flood Bougainville with human resources to bulwark the political apparatus and economic infrastructure in preparation for independence.
More recently another security pundit from the Australian security establishment, Andrew Smith, has acknowledged this may be a little indelicate given Australia's reputation on Bougainville. Instead, he suggests that the US could provide the necessary aid. However, elsewhere Smith adds, this is a short-term solution, in the longer term the Rio Tinto mine must be opened – which Smith describes as 'fabulous' – arguing 'it'd be a tragedy to deny Bougainvilleans these benefits'. Indeed!
Of course, all this talk of intervention is draped in the sterile language of post-modern imperial power – we come to help, aid, assist, and develop, always in consultation and in the spirit of partnership. Absent is the realist calculus that actually informs foreign policy decisions.
So let's put things in realist terms. During the 1990s, a revolutionary movement on Bougainville attempted to set a new historical course for the island, one which rejected the basic tenets of capitalist development, and instead focused on Melanesian notions of balance and harmony between people and people, and people and nature. A 'daring' notion in unequal times – a Melanesian path for a Melanesian people.
According to Australia's then Foreign Minister, Gareth Evans, this act of self-determination was entirely unacceptable to Australia not because of its content – good democrats must allow diversity of views after all – but because it was pursued through violence. Of course Evans saw no irony in the fact Australia had appointed itself regional referee on the basis of its disproportionate military power.
Irony aside, stricken from the record, was how a largely peaceful campaign to pursue this Melanesian path of development – which included protests to close down the Rio Tinto copper and gold mine – was met with violence by the PNG state; and that the formation of a rebel force was in response to sneak attacks on landowner villagers by PNG armed forces, only hours after a peace agreement had been reached with landowner leaders.
Instead landowners were portrayed as instigators and cut-throats, seeking change through violence; cue Australia's military intervention. Hard-power in realist terms. ADF officers stationed in the High Commission, and the PNG Defence Force, began facilitating the means of war, while diplomats cultivated PNG's willingness to employ violence against its own citizens, by lobbying PNG Ministers to act with determination. The result was a brutal military campaign which had Australia's fingerprints all over it – in the form of ADF operatives on the ground in Bougainville, in the forms of a deadly arsenal of weapons supplied to the PNGDF for the specific purpose of suppression, and in the form of polite denials in Canberra by political leaders who were no stranger to skulduggery – remember at the same time they were snatching gas reserves from East Timor, while civilians were butchered by friends in Indonesia's military junta (one of these leaders, Senator Robert Ray – the Defence Minister who in the early 1990s denied any ADF involvement on Bougainville – now sits on ASPI's Board)..
But hard-power was dealt a resounding blow on Bougainville. Despite the many thousands killed, Bougainville rebels successfully saw off Australian and PNG military aggression, leading the latter parties to accept a peace agreement in 2001 that acceded to all the demands asked for by the rebels in 1989, but which were rejected by largely arrogant leaders who believed a 'simple village people' were no match for the modern weapons of war. They were wrong.
However, since then the Australian government has regrouped, very successfully in fact. No longer with guns, but aid, no longer with orders but advice. In realist terms, through soft power. And they have found willing collaborators in the Autonomous Bougainville Government. Collaborators who largely agree with the principles of neoliberal government, with its commitment to untrammelled markets, and foreign investment led growth. Cut asunder are the principles of Melanesian development loudly articulated during the uprising in 1989.
If you stroll around Bougainville, the latter model has a lot of support. People see the soil and lush plumage of the jungle as a friend to be preserved, respected and utilised in a harmonious way through agriculture, tourism and sustainable forms of alluvial mining. The ABG, with its Australian advisors, speak a different language – this language does not see in the earth a great gift to be cherished but an economic opportunity, they do not see between man and nature a fragile bond that must be handled with care, rather they see a magnet for foreign investment.
So in the neoliberal model, everything is for sale, the trees, soil and minerals, because under this extreme model of capitalism everything has an economic price – woolly notions like balance, harmony or indeed sustainability are viewed with condescension. Indeed, Andrew Smith calls it 'utopian', lambasting in particular the Bougaivnillean writer Leonard Fong Roka, who continue to rally for the Melanesian model.
So it appears a new war has begun on Bougainville. This one will not be fought with guns, but money, influence, media campaigns, and air-brushed consultation forums. The aim of this war being waged on Bougainville is nonetheless consistent; to deny Bougainvilleans their own model of development and to instead impose an outside model, that is 'best' for it, and rather conveniently Australia.
So now is the time for Bougainvillean independence activists committed to a Melanesian model of development to develop a strategy not based on weapons, but on influence; how will the soft power of the Australian state be met with countervailing forces on the ground and in national/international forums. The stakes are high; all the blood spilt will either be for something or it will be for nothing.
23.12.2013
Source: Post-Courier
Participants graduate with certificates from the health care program
By ROMULUS MASIU
BABIES should not be produced for fun and pleasure but must be produced with love and care from parents. This stern warning is from the University of Papua New Guinea specialist in gynecology and maternal health Professor Glen Mola at the Arawa Women's Training Centre in Arawa town. Prof Mola was speaking at the closing of the three weeks Essential Obstetric Care (EOC) whereby about 20 health workers in Central and South Bougainville converged to Arawa for the workshop.

The aim of EOC is to up skill health workers to care for pregnancy during normal delivery. Prof Mola told the participants that Bougainville has come out of a critical period where the health services is just starting to come in place and it is very vital for all to work together to prevent deaths especially during delivery of pregnant mothers.
"We have to look after our mothers. Preventing deaths during pregnancy delivery is very important. Fathers must also help in spacing your kids. Do not produce children without proper planning. We must produce children because we love them and will take care of them," Prof Mola said.
Also present during the EOC workshop was Dr Miriam O'Connor, a reproductive health trainer from the National Department of Health. She said the primary health services is very vital and the important life-saving message health workers need to take into account is that "the first 60 seconds during and after the pregnancy delivery is very important."
Arawa Hospital resident doctor Dr Joseph Vilosi who officially closed the EOC program said he was very happy now that the health workers are well equipped with the knowledge acquired during this workshop. Dr Vilosi said the facility in Arawa has limited space and some of the patients especially pregnant mothers can be dealt with in the health centres instead of sending them to Arawa hospital.
"We must encourage family planning and give good life to our mothers. We must be very committed and the knowledge acquired in this course to deal with normal mothers will make a very big difference in their lives," Dr Vilosi said at the same time stressing that with the tireless effort of the health workers the rate of maternal deaths in Bougainville has decreased dramatically. Dr O'Connor was assisted by Celine Tusala and Roselyn Gatana to facilitate the EOC program in Arawa where the health workers participants received certificates on Friday.
23.12.2013
Source: Post-Courier
Veterans reconcile with chiefs
By ROMULUS MASIU
AFTER 24 years, veterans of Eivo Torau Constituency in Central Bougainville have finally reconciled and handed over the power of authority back to their chiefs. The power of authority of the chiefs was hijacked during the height of the crisis by the then BRA, Resistance Fighters and Me'ekamui.
The moving ceremony was held at Manetai at the weekend with the presence of representative of the ABG Minister for Veteran Affairs Ottey Asotau, Grace Paul representing the office of the Central Regional Veterans and Ephraim Sawa from the ABG Veterans Division. The former BRA, Resistance Fighters and Me'ekamui shook hands and said sorry to each other before they all (veterans) said sorry and seek forgiveness from their chiefs who have been victimized during the crisis. The veterans have also hijacked the power of authority from the chiefs during this period also. A traditional ritual was organized and veterans and chiefs partook to solve the long outstanding issue once and for all.
"Please forgive us the veterans for whatever wrong we have done to you, your families and the people of Eivo/Torau as a whole. If I have raped your daughter, tortured your family or burnt your houses and made your lives very miserable. Please, please with all my heart, I seek your forgiveness," chairman of the Eivo/Torau Veterans Association chairman Lawrence Sirabui said on behalf of all the ex-fighters of Eivo/Torau.
After setting up the Eivo/Torau Veterans Association, the first task of the association was to conduct awareness on homebrew and destruction of cylinders which they successfully did. Then the association has a huge task on hand to identify the outstanding reconciliations from 1989 to 1997. According to the association's vice chairman Clarence Dency who is the architect behind the setting up of the association said the Eivo/Torau Constituency has 118 outstanding crisis-related cases to go through the reconciliation process.
Mr Dency also made known that they will affiliate to the mother body which is the Central Bougainville Regional Veterans Association. Starting next year, the association will go out to the 11 Village Assemblies in the Eivo/Torau Constituency for community awareness.
23.12.2013
Source: Bouginville24
Natural luxury of a traditional kitchen
By Nigel Matte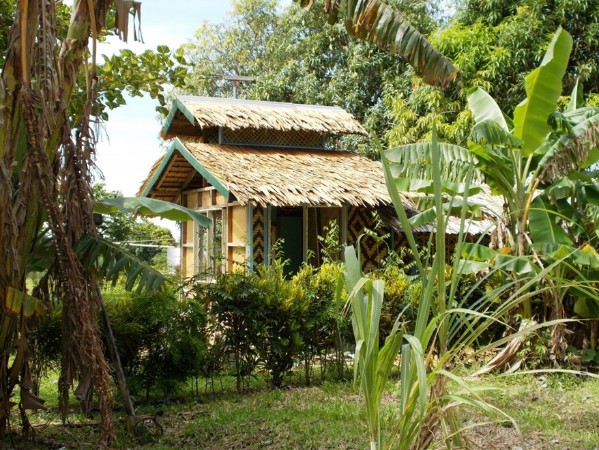 A traditional Bougainville kitchen.
Bougainville is known to be the home of the Black Rutz Marn, a term made popular by famous local musicians The New Age Band.
To be a Black Rutz Marn is to have a Bougainvillean understanding of the world inherited from elders or ancestors rather than the white education system.
In developed nations luxury comes from ownership of expensive items, but to Bougainvilleans luxury comes from pride in traditional practices. One example of this is the traditional kitchen, designed with simple local materials and with architecture passed on from our ancestors.
Design in kitchens, houses and other buildings varies greatly through the autonomous province, particularly between the distinct North, South and Central regions, as well as the islands.
People from Buka Island like kitchens built by mainlanders because of their more intricate design. One reason for this is the greater access to natural resources, such as bamboo that are not available in the same quantity or quality on Buka.
Siwai (South Bougainville) designed buildings are particularly well renowned. The Siwai tend to weave many aesthetic patterns in to the roof and walls.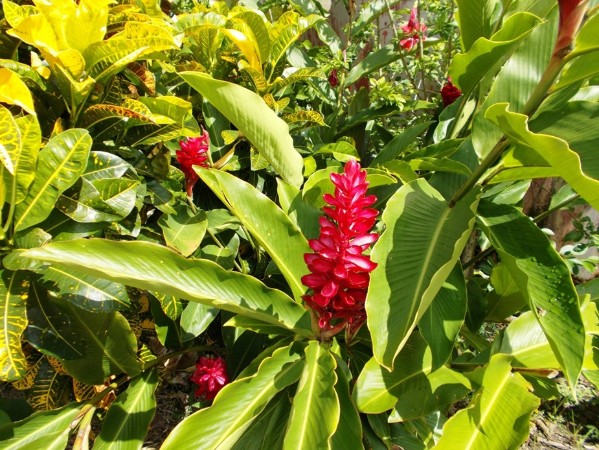 Backyard tropical flower in the South of Bougainville.
A backyard filled with tropical flowers is often maintained to complement the Bougainvillean kitchen. The backyard is symbolic of the connection between domesticity and the natural tropical paradise.
A traveller can find many variations of these traditional kitchens and backyards at places like Tinputz, Kereaka, Kunua, Kieta, Siwai, Buin, Nagovis and many more.
22.12.2013
Source: Radio New Dawn on Bougainville
Police Appeal for Calm
By Aloysius Laukai
Bougainville Police are appealing on the people of Sing and nearby villages from taking the law into their own hands following the death of a youth in the area last Friday evening.
PPC for North Bougainville, Inspector Spencer Aili made this appeal on New Dawn Fm last night and said that several calls for Communities to refrain from brewing home brew and other illegal activities have fallen into deaf ears resulting in this death.
According to Police a man was killed after a drunk an brawl between some people after returning from the presentation at the Sasalan Hihikuma festival last Friday.
In retaliation relatives if the deceased burnt 3 houses belonging to Sing sesvillagers who fled their homes in fear of their lives.
Inspector Aili is appealing to both sides to calm down and allow police o investigate and arrest those responsible.
He said that the villagers must work with their leaders and assist Police in their investigations to ensure that those involved are apprehended.
He said that the incident was not reported to Police until the deceased was pronounced death at the Buka Hospital.
Inspector Aili police have been doing a lot of awareness on the use of illicit spirits(home brew) and its effects but all these have gone into deaf ears.
Police also reported a road accident near Rawa in which people have been seriously injured.
Police say that the driver is in a serious condition and is at the Buka Hospital.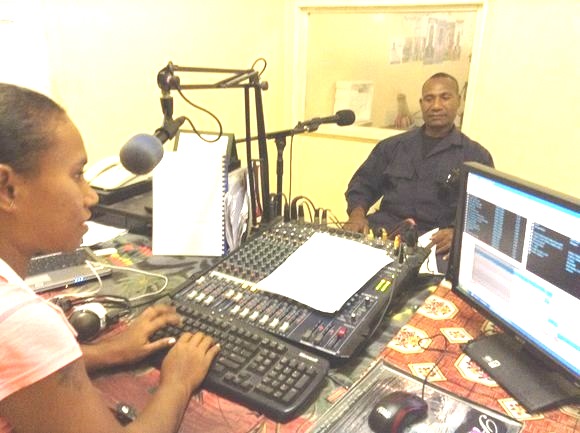 Pictured is Inspector Spencer talking on NEW DAWN FM last night with Maxine Pais
20.12.2013
Source: Radio New Dawn on Bougainville
FINAL DAY ACTIVITIES
by Aloysius Laukai
The final day at the Sasalan Hihikuma Festival started with a replay of some previous activities then Fashion Show two entrants displaying their talents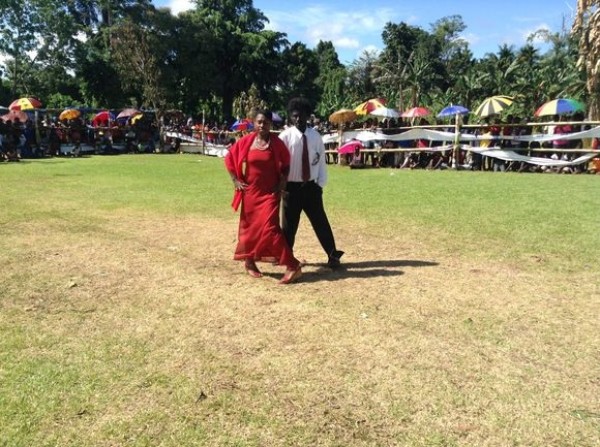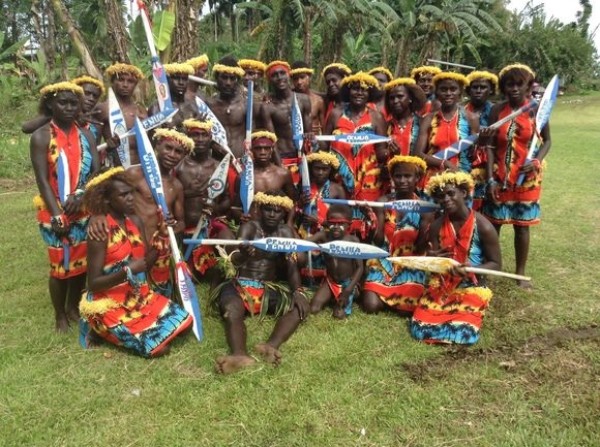 19.12.2013
Source: Radio New Dawn on Bougainville
ELECTION WRITS RETURNED TODAY
By Alex Munme
Caption: Speaker of the House of Representatives, Andrew Miriki receiving the WRITS from Acting Electoral Commissioner, George Manu in the Parliament Chambers this afternoon.
WRITS for the ABG Bye Elections for the five Constituencies of HAGOGOHE, PEIT, RAU, KONGARA and LULE were returned at 3:30PM today.
Speaker of ABG House of Representatives, Andrew Miriki said he was please to inform the people of the Autonomous Region of Bougainville that he formally received the WRITS for the BYE ELECTIONS of the FIVE Constituencies.
The Speaker said because of the successful conduction of the Bye Elections he congratulated the Acting Electoral Commissioner, George Manu for a job well done. He said the Elections have been fair and much peaceful.
Mr. Miriki also thanked and congratulated the Five Assistant Returning Officers, Polling and Counting Officials, Volunteers and all Stakeholders including the general public.
He said the House of Representatives is now complete with full representation of the people of the Autonomous Region of Bougainville.
The By Elections have been described as successful and has resulted in Peter Sohia now being the elected member for Hagogohe replacing Robert Hamal Sawa who has resigned to contest the 2012 National General Election, Jerome Tsingoli Sawa for Peit in North who fills in for Dr. Alexis Sarei who is reaching old age and unhealthy, Thomas Keriri for Rau taking over from late Joseph Egilio who passed away, Dominic Itta for Kongara who resigned to contest the 2012 National General Election but retained the seat in this By Election in Central and Fr. Joseph Kangki Nabuai for Lule in South Bougainville replacing late Paul Mitu who also passed away.
A swearing in ceremony will be officially conducted at 10 am tomorrow in the House of Representatives also at Kubu.
19.12.2013
Source: Radio New Dawn on Bougainville
BOAT SKIPPERS ABUSE CUSTOMERS RIGHTS
By Alex Munme
CUSTOMERS have the right to choose when to travel and which boat to get on when thinking of traveling between Buka town, Kokopau and Sohano Island on Bougainville.
That right is fast being abused by almost all boat skippers operating in Buka.
Community Auxiliary Police or CAP Member of the Bougainville Police Service, Graham Misko says the habit or action of forcing travelers to get on boats is very disturbing.
Mr. Misko says that on one instance a passenger was forced to get on a boat to Kokopau and after getting off the passenger walked off without paying the boat fare.
The boat skipper followed the man and asked for the boat fare which the passenger said he was forced by him (the skipper) to get on the boat to Kokopau and declined to pay.
A fight resulted and the passenger was badly beaten up by the skipper.
Mr. Misko says the whole region is concerned on this disturbing habit by these boat skippers.
He says buai vendor are also doing the same by forcing customers to buy their bettlenuts and is appealing to boat skippers and buai vendors to stop this rude action and allow customers to choose freely.
He is also appealing to relevant authorities to apply some ground rules to control such actions.
19.12.2013
Source: Radio New Dawn on Bougainville
SASALAN HIHIKUMA CREATES UNITY
By Aloysius Laukai
A total of 59 Groups have performed at the SASALAN HIHIKUMA festival which is on its 3rd day of the four-days festival.
The ceremony has more activities with Greasy Pole to be held tomorrow on the last day of the festival.
And sponsors for the Greasy pole prices are from Trukai Rice, JAMSMINE RICE and the major sponsor for the 2013 SASALAN HIHIKUMA festival is the member for North Bougainville, LAUTA ATOI who has paid TWENTY THOUSAND KINA for prices.
Chairman of the festival, ROBERT HAMAL says that the festival has united the people of Hagogohe which is the main aim of staging this festival during this festive season.
He said that the host School, HAMATANA will also raise funds through the festival.
MR. SAWA said that HAGOGOHE people were divided during the recent ABG By Election but have forgotten these differences and united as one people of Hagogohe and Bougainville as a whole as groups are also coming from TSITALATO,HAKU and SELAU for also participating at this festival.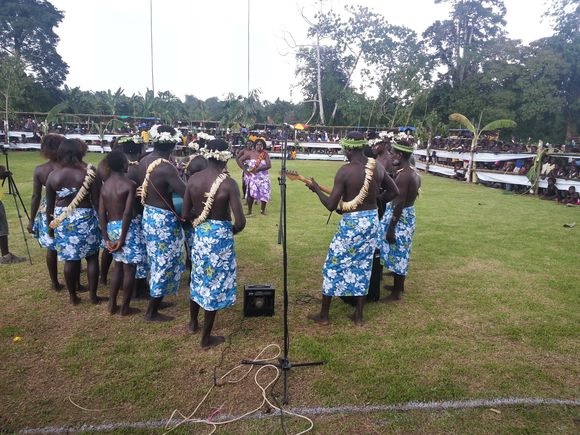 19.12.2013
Source: Radio New Dawn on Bougainville
SIRIOSI WANTS CODE OF ETHICS
By Aloysius Laukai
The ABG Chief Administrator, CHRIS SIRIOSI wants all public servants on Bougainville to adhere to CODE OF ETHICS being developed by his office.
He told New Dawn FM in Buka yesterday that many Bougainvilleans have been complaining about the performance of the Bougainville Public servants and need to contribute by commenting on the Code of Ethics being developed and already on NEW DAWN FM BLOG for people to give comments and recommendations to it.
He said that the ABG Administration was working on the new Public service that will start in the new year with the recruitment of officers who will be working for the Bougainville administration.
MR. SIRIOSI since his appointment has made many moves to improve the performance of the administration and has also received support from the people of Bougainville.
The 15 page Draft Code of ethics can be viewed on New Dawn Site under archives and on Chief Administrator's section under categories.
Responds can be made on the New Dawn FM site or make your comments to the Administration office.
19.12.2013
Source: Bougainville24
ABG embraces social media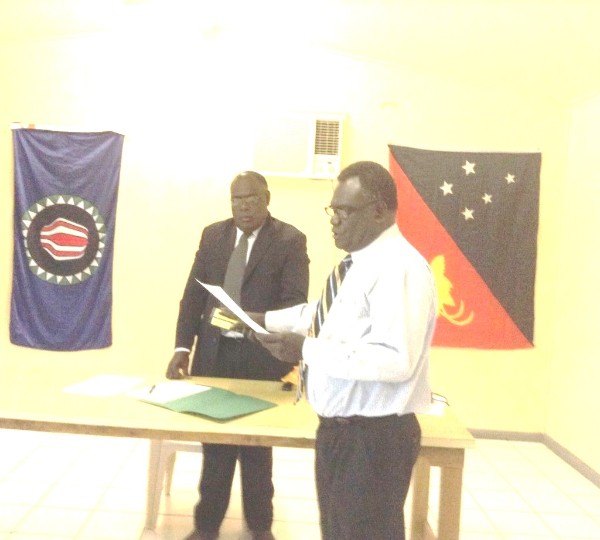 The acting Chief Administrator for the Autonomous Bougainville Government (ABG), Chris Siriosi, turned to social media to disseminate information about activities.
Siriosi utilised the Bougainville Forum group on Facebook to dismiss suggestions that the ABG is led by external advisers on policy and explained the process of policy development on Bougainville.
"As acting Chief Administrator, I want improved ABG communication," Mr Siriosi said, "without adequate information people are often confused."
With radio coverage inconsistent on Bougainville, the two-way communication could become vital for the ABG.
"I do a radio discussion every Thursday night, I make press statements, now I'll also try to get out more information through social media, such as the [Bougainville] Forum."
"At present radio reaches only parts of Bougainville," Mr Siriosi continued, "more than 60 per cent of our people aren't covered.
"The ABG is working to extend broadcast coverage… a new satellite transmission system, for all main broadcasters, should be working within weeks."
Bougainville Copper Limited are jointly funding the satellite infrastructure upgrade along with the ABG.
The ABG has increased its online presence in recent times with the establishment of Bougainville Bulletin, bougainville.travel and now Facebook contributions by Chris Siriosi.
19.12.2013
Source: ABC Radio Australia - Pacific Beat
US has role to play in Bougainville stabilisation - analyst
A retired Australian Army Brigadier is calling on the United States to step up its role in supporting Australia to stabilise the peace in Bougainville.
Dr Andrew Smith who is now an independent security analyst says sometimes Australia appears to be going it alone when handling problems in the south-west Pacific.
And he says the US can make a valuable and "cost-effective" contribution in Bougainville, not through intervention, but through a more measured assistance effort.
Presenter: Richard Ewart
Speaker: Dr Andrew Smith, independent security analyst
19.12.2013
Source: Post-Courier
Bougainville acting president's message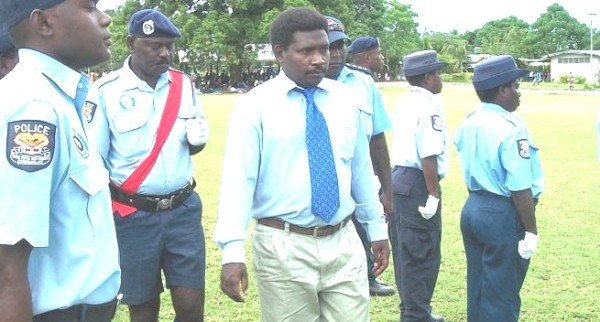 The Autonomous Bougainville Government's acting President Patrick Nisira (pictured above) in his Christmas message expressed his deepest gratitude to all Bougainvilleans who continue to support his Government's initiatives. "As we come to the close of another year we are reminded of our failures and triumphs and what we as Bougainvilleans have given to the progress of the region this year 2013," he said. "It is also a time to reflect, learn from our mistakes and plan for a better future that will benefit ourselves, our families and our community." Mr Nisira said the year began well for the Autonomous Bougainville Government which still proves "to be a viable source of governance mechanism that is mandated by the people of Bougainville". He continued: "We as always have been a government of the people, by the people and of course for the people. "Your Government, the Autonomous Bougainville Government has managed to secure better development deals to improve the fiscal health of the region while also pushing ahead better service delivery. "Despite our many critics we have progressed at a steady pace to increase the development of the common Bougainvillean in all aspects of their lives, the key phrase being slowly but surely." The Vice President pointed out that the ABG has worked tirelessly to bring investors into the region to create a working economy that will soon prove self-sustaining for Bougainville. "Investors are already on the ground or have shown a keen interest in investing in Bougainville's rich resources with the intent of developing it while bringing forth economic stability and increase our development capacity within the region. "As we progress, more foreign investment will follow suit and with the ABG's newly enacted Inward Investment Bill we can now effectively control and maintain the investments within the region while making sure they do their business within the law. "I must also add that it has always been the ABG's stance that any willing investor coming to the region must be on our terms and not to exploit our people and our resources." Mr Nisira said he hoped the coming year would see positive tidings with the National Government upholding its commitment to the people of Bougainville. It is through the people's support that that the ABG is able to continue to strive to make Bougainville a better place "for our children and our children's children". The acting President concluded by wishing all Bougainvilleans "a very Merry Christmas and a prosperous New Year 2014 and may Almighty God continue Bless us all, God Bless Bougainville".
19.12.2013
Source: Post-Courier
Nisira grateful for support
AUTONOMOUS Bougainville Government Acting President Patrick Nisira has expressed his deepest gratitude to all Bougainvilleans who continue to support the Autonomous Bougainville Government's initia-tives.
The acting President said this in his Christmas message the people. "As we come to the close of another year we are reminded of our failures and triumphs and what we as Bougainvilleans have given to the progress of the region this year 2013," he said.
"It is also a time to reflect, learn from our mistakes and plan for a better future that will benefit ourselves, our families and our community." Mr Nisira said the year began well for the Autonomous Bougainville Government which still proves "to be a viable source of governance mechanism that is mandated by the people of Bougainville".
"We as always have been a government of the people, by the people and of course for the people. "Your Government, the Autonomous Bougainville Government has managed to secure better development deals to improve the fiscal health of the region while also pushing ahead better service delivery for all our people.
"Despite our many critics we have progressed at a steady pace to increase the development of the common Bougainvillean in all aspects of their lives, the key phrase being slowly but surely." The Vice President pointed out that the ABG has worked tirelessly to bring investors into the region to create a working economy that will soon prove self-sustaining for Bougainville.
"Investors are already on the ground or have shown a keen interest in investing in Bougainville's rich resources with the intent of developing it while bringing forth economic stability and increase our development capacity within the region.
"As we progress more foreign investments will follow suit and with the ABG's newly enacted Inward Investment Bill we can now effectively control and maintain the investments within the region while making sure they do their business within the law.
"I must also add that it has always been the ABG's stance that any willing investor coming to the region must be on our terms and not to exploit our people and our resources." Mr Nisira said he hoped the coming year would see positive tidings with the National Government upholding its commitment to the people of Bougainville.
It is through the people's support that that the ABG is able to continue to strive to make Bougainvillen a better place "for our children and our children's children". The Acting President wished all Bougainvilleans a merry Christmas and a prosperous New Year 2014 and "may Almighty God continue Bless us all, God Bless Bougainville".
19.12.2013
Source: Papua New Guinea Mine Watch
Bougainville mine: locals who oppose its re-opening must have a voice
by Antony Loewenstein
Deference to Bougainvilleans must be the priority – a position that remains anathema to diplomats, politicians and insider media

The mine lies like a scar across a bloody face. Guava village sits in a remote area in Bougainville, Papua New Guinea (PNG), above a copper mine which closed 25 years ago. Resistance to the Rio Tinto-owned pit exploded in the late 1980s and during a recent visit, I got to stand above the massive hole that caused the crisis. Human rights abuses were rampant back then, with locals missing out on the financial spoils. Opposition to the enterprise was inevitable and necessary.
Run by Bougainville Copper Limited (BCL) from the 1970s, the Panguna mine spewed unprecedented amounts of pollution into the ground, water and atmosphere. It lingers to this day but nature has begun to reclaim its rightful place across kilometres of land, dipping its ferns, grass and lush green trees across oily and rusting equipment. Guava, with its 400 inhabitants, is a peaceful place up a steep rocky incline. During the rainy reason, clouds dance around unpredictably and the hot sun shines on the moist and muddy soil. From there, the view above Panguna is breath-taking, the scope of the environmental damage visible, and the lack of clean-up criminally negligent.
The Bougainville civil war, which was sparked by conflicts over the mine, lasted 10 years and cost the lives of up to 15,000 people. The PNG government blockade, comparable to that imposed on Saddam Hussein's Iraq, caused immense suffering amongst the civilian population. At the height of the conflict the government – which many say had BCL involvement – trained and led soldiers to crush the Bougainville resistance; some researchers have since claimed that Australia provided support to the Papua New Guinea Defence Force in the process.
Locals were victorious, but they paid a high price: the island has remained eerily stuck in time for a quarter of a century. In the nearest main town of Arawa, where I stayed, burned-out buildings and petrol stations still stand, and drunk youth loiter in parks. The region is nonetheless relatively safe these days, unlike many other areas of PNG, but it faces an even greater threat: the potential re-opening of the mine by the same forces who seem destined to, once again, not listen to landowners.
During my time in Bougainville, I spent the vast bulk of my days with communities near the old mine and around the waste deposits that left vast swathes of land with little more than sandy dirt. A local woman, Theonila Roka, told me as the sun set on the polluted Kavarong river that mining simply isn't necessary to bring Bougainville independence. "In many ways we're already independent", she said. "Most people are self-sufficient, growing their own food on their land." She doesn't ignore the economic realities of wanting independence through a planned referendum between 2015 and 2020, but she has no faith that BCL and the government won't collude once more to deny mineral and financial rights to her people.
Sadly, journalists rarely interview any Bougainvilleans. A recent report by the ABC run Australia Network completely ignored the locals and only featured an interview with the Australian-based writer of a study by the Australian Strategic Policy Institute (ASPI) that encourages more Australian engagement and big mining. As articulated by a notable dissenter of the ASPI study, locals are rarely given a voice.
This year has also seen the unedifying sight of AusAid funding Australian academics such as Anthony Regan to assist the Bougainville Autonomous Government to draft new mining laws, which some claim is occurring without proper public consultation (something which Regan denies). During my time on the island, I constantly heard worries about the lack of transparency over who will be allowed to mine and how – along with who owns the rights to the resources.
Nowhere in most media stories is any acknowledgement that Canberra is recruiting advisors with links to the mining giant – but Australia's record as a colonial administrator to PNG is not easily forgotten on the ground. Some land-owners in Bougainville told me they resented outsiders telling them that they should suffer the reality of polluting extraction while Australians live comfortably in clean cities.
The sheer scale of copper and gold beneath the ground explains the deals being struck. It's easy to see why so many stakeholders are so keen to keep these issues out of the public spotlight: it's a bad look to treat local concerns as illegitimate while waving around big dollars to seduce key players. Central Bougainville MP and minister for information and communication Jimmy Miringtoro told the Post Courier that the local population must become resource owners and shareholders. "These [mining] laws", he said, "must also ensure equitable distribution of wealth from the mine so that no one group in Bougainville becomes rich while the rest are poor." Indeed, deference to Bougainvilleans must be the priority – a position that remains anathema to diplomats, politicians and insider media.
In the meantime, the lack of real democracy in Bougainville continues to haunt the island as its population gears up to make crucial decisions regarding its independence and the management of its resources. Former resistance leader Sam Kauona is one of the loudest public voices opposing the re-opening of the mine. He told me in Arawa that he recently met the BCL and Rio Tinto heads in the island's capital, Buka. He said they were shocked when he said it was time for unjust mining legislation across Commonwealth nations to be changed to reflect the will of the people, and that Bougainville was going to lead the charge.
On my last day, I met AusAid's team leader in Bougainville, Deo Mwesigye. A friendly man who is curious about my reading of the political situation, Mwesigye believes the population largely supports the role of Australia in assisting the building of roads and hospitals there. But when I pointed out that these projects, while important, were referred to by many of the people I interviewed as little more than band-aid solutions, he remained silent.
Today, locals or key land-owners remain skeptical of big scale mining, scarred by the past. Even though the local government initiated formal talks around Bougainville this year to discuss the possibility of re-opening Panguna, locals told me the meetings were not inclusive, that many land-owners felt they were excluded, and that authorities arrived with a pre-ordained goal: bring BCL back to the island. Women's perspectives are almost invisible, though a Bougainville Women in Mining group submitted a paper recently which detailed their exclusion from the decision making process.
PNG remains a unfinished nation which is being stripped of its resources, from logging to natural gas. The situation in Bougainville provides a perfect opportunity for authorities and the titans of multinational extraction to atone for the mistakes and crimes of the past.
19.12.2013
Source: Post-Courier
Arts federation launched in Panguna
By WINTERFORD TOREAS
PANGUNA District in Central Bougainville now has a body that will deal with any issues concerning different artists in the area. This follows the launching of the Panguna District Arts Federation by the chief executive officer of the Bougainville Division of Media and Communication, Robert Aneisia last weekend. The launching coincided with the Post-Courier-sponsored Peace and Progress Concert which was held in Panguna primary school last Saturday. Mr Aneisia said this body will help unearth and empower the raw talents that can be found in Panguna.
"There are talents in Panguna. And through this Panguna Arts Federation, we can now re-tell the story of Panguna. People from the other side can now see Panguna through the eyes of the artists from Panguna," Mr Aneisia said. "Today we have the privilege to say that Panguna now will have to prepare itself to address issues concerning artists in Panguna District," he added. Mr Aneisia also gave a brief update on his division's initiative to establish the Bougainville Arts Federation, which will comprise three regional chapters of North, Central and South Bougainville.
He added that from these chapters, Central Bougainville will further have three sub-chapters and will include Wakunai, Kieta and Panguna districts.Mr Aneisia later said that next year's Peace and Progress Concert will be bigger than this year's event, before adding that this time it is not only the musicians that will be taking part but will also involve other talented people from the area like the carvers, weavers, actors, story tellers, florists and small movie makers participating to showcase their talents.
19.12.2013
Source: Post-Courier
Bougainvilleans need to change negative mindset
By ROMULUS MASIU
BOUGAINVILLE needs more educated people to change the current negative mind-set which is embedded in so many people as a result of illiteracy and ignorance. "We have to invest in our human capital for the future, for a better, smart, wise, fair, healthy and happy Bougainville," Kieta district executive manager Lucy Travertz said at the closing of Tupukas Primary School last week. Ms Travertz said homebrew, drug, beer and substance abuse are not the way for Bougainville to prosper.
"In fact we will be destined for disaster. Marriages can wait until after you have established yourself well in terms of education, financial or economical sustainability and physical maturity, so that you can produce good healthy and happy families and communities and of course a happy Bougainville," she said.
While addressing the outgoing grade eight students, Ms Travertz said PNG is one of the lowest, third last poorest countries in the world, as ranked in the United Nations Human Development index. "We must overcome this somehow so that we can be ranked in the top 50 countries in the United Nations Human Development index by 2050, to create opportunities for personal and regional advancement through economic growth, smart innovative ideas, quality service and ensuring a fair and equitable distribution of benefits in a safe and secure environment for all Bougainvilleans.
"This can only be attained through a well educated and developed human resource, performing well in what we do and making well informed policies and decisions." Ms Travertz said that for the benefit of improving service delivery especially to the majority of people in the rural areas, the Kieta District administration's core business, is institutional strengthening.
"We want to go back to the basics, like if existing schools are not well equipped in terms of curriculum material, classrooms or teachers' houses, or if teachers are not physically teaching, we want to address these issues with a view to improving our schools for better delivery of services." She said that there are big plans to improve education in the region: St Mary's Asitavi High School will be elevated to become the first all-girls secondary school and Arawa which is a day school will now become a boarding school.
19.12.2013
Source: Post-Courier
AOG religious group in Arawa
AOG leaders being escorted into the official prayer area at the Tupukas Primary School by a singing kaur. Picture: ROMULUS MASIU
By ROMULUS MASIU
A BOUGAINVILLE district youth convention, under the umbrella of Assembly of God throughout the Autonomous Region of Bougainville, is underway at Tupukas Primary School premises in the township of Arawa. All the youths of the three regions, mainly North, Central and South are attending the convention that commenced on the 17th of last month and will end this weekend. The guest speakers were invited to speak at the convention on the theme "Bring the youths to discover their destiny in Christ".
The two guest speakers were Reverend Allan Gebai from Port Moresby and Br Simon Omi from Kimbe, West New Britain Province. According to Ps Shadrach Montoru who is the Central Youth Director the VIPs were also invited to attend the official opening of the convention, to address the youths but unfortunately they didn't show up. The only VIP present was Central Bougainville Commissioner James Koibo.
"The youth felt down hearted when they learnt that the so-called leaders were not around to address them. They now come to realize that these so-called leaders they have their own agenda and that means that they already forgot their youths," Ps Montoru said. He added that when so called leaders forget the youths they are now forgetting a nation for tomorrow, a leader for tomorrow, a community for tomorrow and the church for tomorrow. The youths appealed and asked the leaders to attend such gathering as the one Assemblies of God hosted here in Arawa.
19.12.2013
Source: Post-Courier
Tough ask
Words, Picture: by ROMULUS MASIU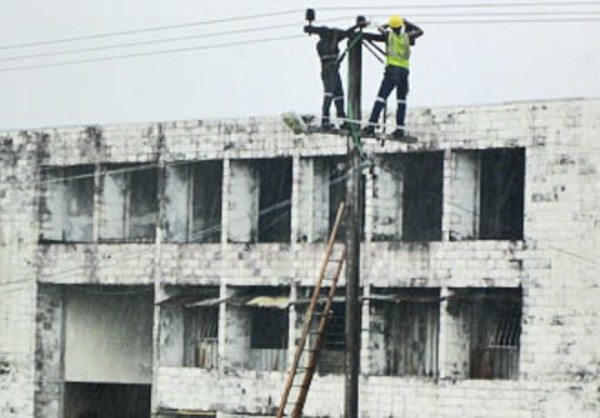 THESE two PNG Power linesmen from Arawa had a difficult task yesterday, fixing a faulty power line running next to the White House, as this building is called. Their job was difficult because of the heavy downpour yesterday in Arawa. This picture was taken from the Post-Courier office just across the street in Arevai Green House.
18.12.2013
Source: Radio New Zealand International
Carteret Islanders want Bougainville move but house building slow
Tulele Peisa, a non-government organisation in Papua New Guinea's Bougainville says they need more help to cater for dozens of families wanting to more to main island from the Carterets.
The tiny islands are increasingly under threat from the effects of climate change, with flooding affecting residents' chances for producing food.
Tulele Peisa in conjunction with the Catholic Church, is providing land on the main island of Bougainville, near Tinputz, where the people are being resettled.
The NGO's spokesperson, Ursula Rakova, says they have settled seven families so far and built six and a half houses.
They want to move hundreds more and Don Wiseman asked her about what the hold-up is.
URSULA RAKOVA: There's a lot of people interested to move voluntarily. The hindrance is actually to do with homes, because we want complete homes before we can actually move people in and it's still very slow basically because we have not had support coming locally and nationally. We've got support coming from churches in Germany and this is why building the homes is quite slow. And it has slowed down the process of physically relocating people. But in terms of sustainable livelihoods we are way ahead.
DON WISEMAN: In terms of sustainable livelihoods, these families, they've got enough room for their own gardens and they've got opportunities for employment, have they?
URSULA RAKOVA: Yeah, there is opportunities for growing a lot of their own food crops, as well as cash crops which is basically cocoa and coconut. We've mapped out one hectare each family, so we are now in the process of marking out another hectare per family so families will be left to manage two hectares each. So in terms of sustainable livelihood the families are well sustained.
DON WISEMAN: Could we talk about the islands themselves, because we know that they've been in a precarious state, because, effectively, they're sinking or they're disappearing as a result of climate change, to what extent are those islands liveable at the moment?
URSULA RAKOVA: You can live on the islands, but it's almost impossible for anyone to grow food and sustain their families. At the moment, as I'm speaking, people are going without food. They could even drink a coconut for a day and that will hold them. It will not work. It's human rights abuse. If you are really looking at people sustaining themselves, they are not able to do that. It's impossible.
DON WISEMAN: So there are lots of people who want to move right now and they can't because you guys are not able to build houses quickly enough 'cause you're not getting enough help.
URSULA RAKOVA: Exactly. When we started in 2009 there were 83 families who volunteered to move. The list is actually increasing and the Council of Elders on Carterets is giving us a list of names that we cannot manage to deal with.
DON WISEMAN: Are there other groups helping these people?
URSULA RAKOVA: The Autonomous Bougainville Government and its administration was looking at a piece of land in Buka, but the land is still in dispute and nothing has actually happened.
DON WISEMAN: So at this point, for your group, Tulele Peisa, you would really like assistance from wherever, I suppose, to get this project happening more quickly?
URSULA RAKOVA: We will definitely need support for this project to move quickly because we've got over 83 families who have volunteered to move to the four sites that we have. The Catholic church has gifted four land areas on mainland Bougainville where we want to move our people into. But we cannot move these people unless we are providing shelter, equitable shelter, for the families to move in so that they can then sustain their own lives by making gardens, growing cash crops to basically bring a small income into the family.
> Newsroom 01.12.2013 until 18.12.2013